Throughout the hottest days of summer, I always look forward to fall. It is my most favorite season of all the seasons. After the long, hot and sometimes tiring days of summer, the cool, crisp air of fall feels invigorating:) Well, fall has finally made its presence felt in our neck of the woods. The leaves are turning color, the air is crisp and cool, and the days are already beginning to feel much shorter. I am looking forward to taking some really long walks so that I can enjoy this cool air before the weather begins to get really cold :)
One other thing I really look forward to in fall season is baking :) Yes, I bake occasionally in summer, but with high temperatures I am not tempted to bake too often. Baking in fall is definitely way more fun than in summer :)
This year I haven't baked as much, but I made a start on my fall baking with these apple wheat muffins. These egg free, butter free muffins are something I whipped up on a whim in order to use up some of the apples in my fruit basket :) And I am glad I did, these turned out so well. The muffins were soft, moist and delicious. Everyone in my family definitely loved them :) If you are in the mood to bake, why not give these easy muffins a try and as usual, let me know what you think about it :)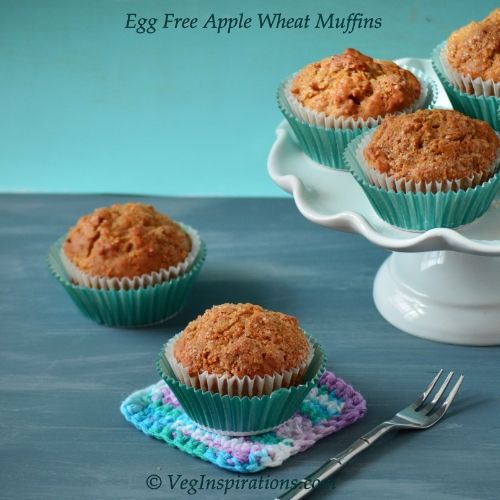 Click here for a printable view of this recipe
Ingredients and Method to make Egg Free Apple Wheat Muffins
Dry Ingredients
1 and 1/2 cups whole wheat flour (atta/ godumai maavu)
1/2 cup all purpose flour (maida)
1 tbsp ground cinnamon (cinnamon powder)
1 1/2 tsp baking powder
1/2 tsp baking soda
1/4 tsp salt
3/4 cup sugar (see notes)
1 tbsp turbinado brown sugar (optional) (to sprinkle on top of muffins)
Wet ingredients
1 tbsp corn starch (called corn flour in India) + 3 tbsp water in lieu of 1 egg
1 and 1/2 packed cups grated apple. ( I used 3 medium sized apples )
1/4 cup oil
1/4 cup plain yogurt (curds/ dahi/ thayir)
1/2 cup milk (doodh/ paal)
Pre heat oven to 375 deg F (190 deg C). Line a muffin tray with paper or grease the muffin tray and keep aside.
In a large bowl, add both flours, salt, baking powder, baking soda, cinnamon and sugar and mix well. Keep this mixture aside.
Peel and core apples,grate apples and keep aside. Whisk together corn starch and water and keep aside.
The copyright of this content belongs to
Veginspirations.com
Add corn starch + water, yogurt and milk one at a time and gently mix into the flour. Add oil and mix again. Finally add grated apple to the flour mixture and mix well. Spoon mixture into the pre lined muffin tray until 2/3 full. Place in oven and bake for 22 to 26 minutes or until a toothpick inserted in center comes out clean.
Remove, cool a little and enjoy.
Yielded 12 standard size muffins.
Notes:
If you like a more pronounced sweetness in your sweets you may want to increase the quantity of sugar to 1 cup, with this quantity this muffin is mildly sweet.