Making sweets is not a very frequent occurrence in my home. But right now my family is here, their presence
and
the festival season, has given me the perfect chance to relax my "no sweet" stance and indulge a little. And I must admit I gladly took it, after all I have to make sure that I indulge my sweet tooth once in a while:) As a result, for the first time in a long time, I have made far more
sweets
in a two month period than I ever remember before, and
some
of
them
have even made it into this space :)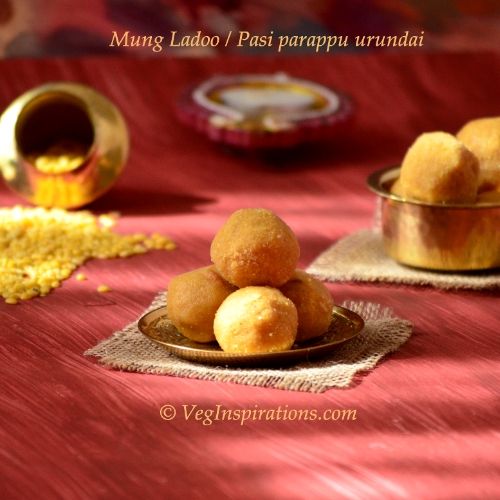 Here is another one that I made recently, mung ladoo made with mung bean lentil (mung dhal/ pasi parappu). This one's a super easy, super delicious sweet that is perfect for all occasions. I especially love the super easy part of this sweet, it is perfect for when you are in a rush or are making sweets for a crowd and do not want to fuss with sugar syrup consistency that seems to be an integral part of so many Indian sweets. This one is just as easy as mixing all the ingredients and proceeding to actually making it. If you are looking to make sweets this Diwali season, or really sweets for any occasion, give this simple recipe a try. It hardly takes any effort and tastes pretty yummy :)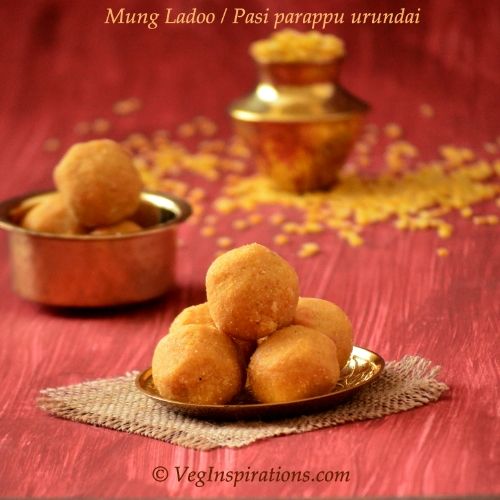 Click here for a printable view of this recipe
Ingredients
and Method to make Mung Laddu
2 cups mung bean lentil (mung dhal/ moong dhal/ pasi parappu)
1/2 cup warm melted clarified butter + 2 tbsp warm clarified butter (ghee/ nei) (see notes)
3/4 cup sugar (shakkar) (see notes)
1/2 tsp cardamom seed powder (elaichi powder/ elakkai podi)
3 tbsp broken cashew nuts (kaju)
In a heavy bottomed pan, dry roast the mung dhal on low to medium low heat, until it is evenly roasted, aromatic and achieves a nice reddish/ golden hue. Take your time with this step and always keep the stove on medium/ medium low and make sure that all the lentils are roasted evenly by stirring frequently. Remove and cool the roasted lentils to room temperature.Grind cooled lentils to a fine powder. Add the powder to large bowl.
Powder sugar until it is fine. Add cardamom powder to it and give it a turn so it mixes well. Add this to the powdered lentils and mix with a whisk or a large spoon.
In a small pan, heat 2 tbsp ghee on low to medium low heat. Add cashew nuts to it and stir until the cashews turn a golden to golden brownish hue. Remove and add this entire ghee + cashew mixture on the lentils + sugar mixture and mix well.
The copyright of this content belongs to
Veginspirations.com
Heat the balance of the ghee until melted and add to the lentils + sugar mixture. Mix well and make small golf ball sized balls with the mixture. Store in an airtight container and enjoy within a few days for the freshest taste. This sweet does not require any refrigeration and can be stored at room temperature for several days:)
Notes:
At this level of sugar, the sweet was mildly sweet and just right for us. If you like your sweets with a more pronounced sweetness, you can increase the quantity of sugar to 1 cup or even 1 and 1/4 cup of sugar depending on how sweet you like it :)
The ghee/ clarified butter acts as a binding agent in this sweet. With this level of ghee, the sweet can be easily rolled into balls and it has this wonderful melt in your mouth quality. In case you want a richer taste you can increase the quantity of ghee to 3/4 cup.