Recently I got a lot of apples and even though we have been consuming some of those apples, it seemed to me like every time I checked the fruit tray, the apples seemed to have multiplied on their own :) In order to use them up, I've been tossing a few ideas in my head. After thinking of and rejecting half a dozen ideas, I finally settled on
this cake
that had been on my to try list for a while now.
In addition to the fact that I have been wanting to try this cake, the other factor that sold me on this idea was that the weather in our neck of the woods has been in the sub zero range and just the thought of switching on my oven with all the flavors from the cake wafting through the home made me feel all warm and cozy.I skipped the frosting and eggs in this recipe and kept it simple. The cake turned out wonderfully, very moist and delicious with just enough sweetness without getting cloyingly sweet. I will definitely be making this one again and soon :)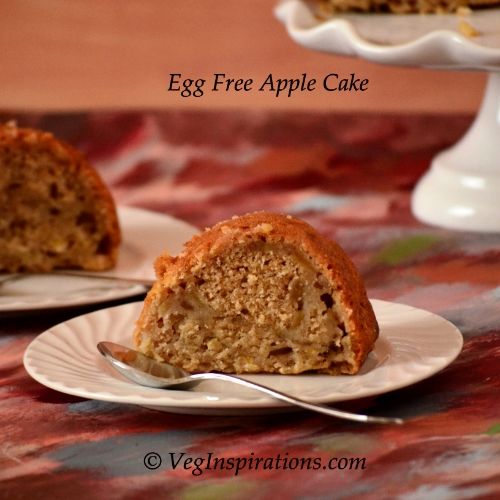 Click here for a printable view of this recipe
Ingredients and Method to make Apple Cake (Adapted from
this recipe
)
1 and 1/3 cup unbleached all purpose flour (maida)
1 cup whole wheat flour ( atta) (see notes)
1 cup sugar
1/2 tsp salt
1/2 tsp baking soda
2 tsp baking powder
1 tsp ground cinnamon (cinnamon powder)
1/4 tsp ground nutmeg (nutmeg powder)
1/4 tsp ground ginger (ginger powder)
Wet ingredients
1/2 cup plain yogurt (curds/dahi/ thayir)
1/2 cup milk (doodh/ paal)
4 cups apples, peeled,cored and cut into little pieces ( I used almost 5 apples for this)
1 stick butter (8 tbsp ) melted
Preheat oven @ 325 deg F. Grease a 9x 13 inch cake pan or a bundt cake pan and keep aside. I used a bundt cake pan.
Peel, core and cut apples into tiny pieces and keep aside.
In a large bowl mix all the dry ingredients well. Add whisked yogurt to it and mix well. Add milk and mix well. Melt butter and add to the mixture and mix well. Finally add apple pieces and mix again. Pour the batter into the prepared tin, and place in the oven and bake for about 45 to 50 mins or until a cake tester or tooth pick inserted into the center comes out clean or nearly clean with only slightly moist crumbs clinging to it.
Cool thoroughly, slice and enjoy:) Best within a day or two of baking, any longer and I would suggest the cake be refrigerated.
The copyright of this content belongs to
Veginspirations.com
Notes:
You can substitute whole wheat flour with all purpose flour (maida) too, and can make the entire cake in apf.
When hot this cake is very, very tender and I would suggest waiting for it to cool before handling/ slicing it. Once it cools it firms up and is much easier to handle.