Ever since I used collard greens in
this roti
for the first time, I have been thinking that I needed to use it more often and in more kinds of curries and dhals. Collard greens and kale are the two greens I have not experimented much with, well actually in case of kale I haven't tried it at all. With collard greens at least I make occasional forays into trying the green in different dishes or when I make the roti I mentioned earlier.
This time I tried collard greens in a dhal. Since collards are a tad bit bitter I decided to use them in combination with spinach (Palak) in making this dhal. Loved how this dhal turned out, it was simple and easy, yet totally nutritious and satisfying. It was great with some plain steamed rice as well as with rotis (Indian flat bread). This dhal would totally work with just spinach too, so if you want to skip collard for whatever reason you can just go ahead and make this with spinach :)
If you are looking for some other recipes with spinach, check out some of these other Spinach/ palak recipes in this space
Aloo Palak ~ Baked potatoes in a spinach gravy curry
Chana Palak ~ Chickpeas in spinach gravy curry
Spinach and Mung Lentil Soup ~ A healthy low fat soup with palak and moong dhal
Spinach/ Palak chutney ~ Keerai thogayal
Palak raita ~ Spinach in yogurt salad/ dip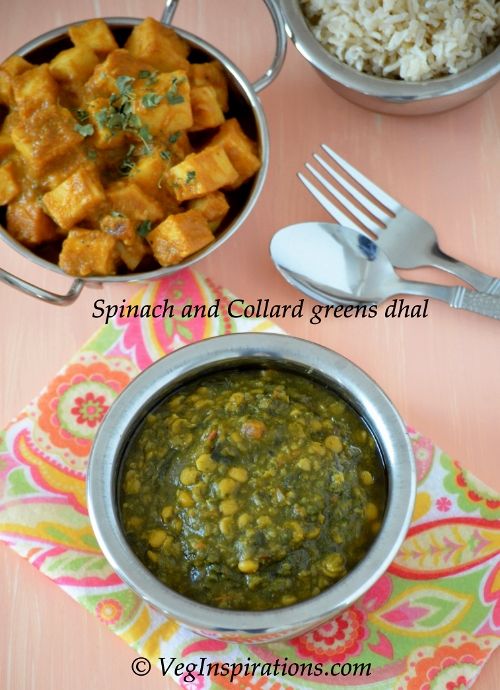 Click here for a printable view of this recipe
Ingredients and Method to make Palak Chana Dhal
1 cup split chick pea lentil (Gram/ chana dhal/ Kadalai parappu) soaked in sufficient water for 2 hours
2 packed cups collard greens leaves cut fine (or Spinach leaves) (See notes)
2 packed cups spinach leaves
1 medium onion cut fine
3 medium tomatoes cut fine
1 tbsp oil
3/4 tsp cumin seeds (jeera/ jeeragam)
1 Thai or Indian variety green chili cut fine
1 dry red chili
1/2 tsp minced garlic
1/2 tsp minced ginger
1/2 tsp coriander powder (Dhania)
1 tsp garam masala (can be substituted with any other curry powder)
you can find my post on homemade garam masala powder
here
1/2 tsp chili powder
1/4 tsp turmeric powder
salt to taste
Soak Chana dhal in sufficient water for two hours. Drain water, fill with fresh water and pressure cook or cook on the stove top until the lentils are cooked, soft but not mushy. They should hold their shape
The copyright of this content belongs to
Veginspirations.com
Cook collard greens on the stove top with a little water until it is tender. When it is almost cooked and soft, add spinach leaves and cook for another couple of minutes until the spinach leaves wilt and become soft. Remove from heat and keep both the greens aside. When cooled, puree coarsely and keep aside.
In a heavy bottomed pan, heat oil. When hot, add cumin seeds, when the seeds begin to sizzle add green chili and red chili and stir a few times. Add onion and stir until onions turn transparent.
Add minced garlic and minced ginger and stir a few times. Add tomatoes, salt to taste, spices and stir until tomatoes become soft and mushy.
Add cooked lentils and simmer for a couple of mins. Add coarsely pureed greens, adjust water as required to achieve desired consistency. Adjust salt if required and simmer for a few minutes for all the flavors to mingle.
That's it, its done. Remove from heat and serve hot on a bed of plain steamed rice with a curry on the side, or with any kind of Indian flat bread like
phulkas
/
chapathis/ rotis
etc.
Notes:
If you do not have collard greens on hand/ or do not want to use it, you can use only spinach (palak) for this recipe too. Just cook the spinach, puree it and proceed with the rest of the recipe.