Chai tea is such an integral part of our lives, that when I have to go without tea for a day, the day itself feels strange and somewhat incomplete. When I first started out making tea, I used to stick to the basic version without any spices or flavorings. I still make that version occasionally, but most days my tea has some kind of additional flavor. Either ginger, or ginger + cardamom or ginger with some other spices, etc :)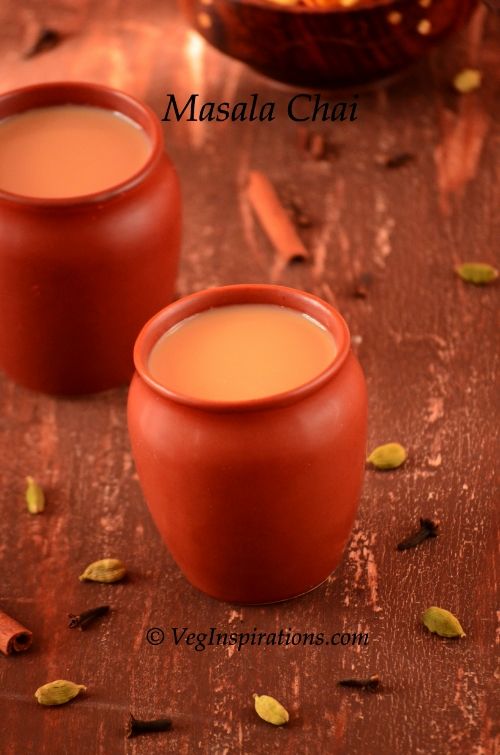 Usually how I make my tea is also determined by the ingredients I have on hand, if I can get my hands on some lemongrass than
this version with lemongrass
is my preference. If I have some of
this spice powder
on hand than
this spiced version of chai
is my preference. When the weather gets cold I love to have
this spicy fennel pepper tea
.
For really cold weather, in addition to making the fennel tea that I mentioned above, I also love to make masala chai. This version does not require making any masala powder ahead of time, so its really quick to make. Just ginger and a few spices from the pantry and voila you have a wonderfully aromatic and delicious chai that is just the thing to perk you up on cold evenings :)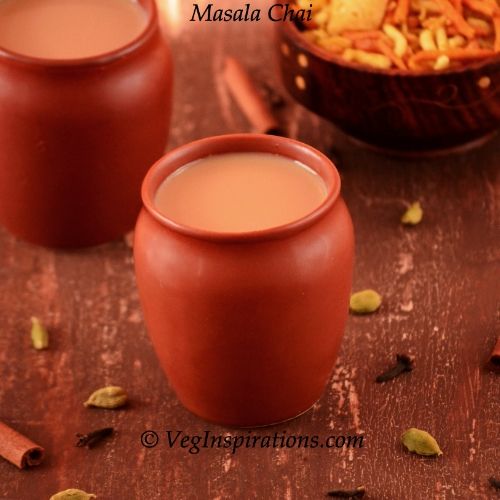 Click here for a printable view of this recipe
Ingredients and Method to make Masala Chai
1 cup water
1 cup milk
1/2 inch piece of ginger grated (adrak/inji)
1/4 tsp fennel seeds (saunf/ sombu)
1/4 tsp whole black pepper (kali miri/ milagu)
4 green cardamoms coarsely crushed (elaichi/ elakkai)
2 whole cloves ( lavang/kramb)
1 inch piece of cinnamon (dalchini/ pattai)
2 tsp sugar (or to taste)
2 1/2 tsp loose tea leaves
Heat water in a medium sized pan. Add ginger, fennel, pepper, cardamoms, cloves and cinnamon and allow to simmer for a few minutes. I usually keep it on simmer for about 3 to 4 minutes.
The copyright of this content belongs to
Veginspirations.com
In the meanwhile, heat milk on the stove top/ microwave. Add sugar and loose tea leaves and allow it to simmer for a scant 30 secs to 45 secs at most. Add milk to this mixture and allow to heat until it boils.
Switch off heat, remove, strain tea and pour into two cups. Serve immediately.