Bisi bele bath is a one dish meal with rice, lentils and veggies that originates from Karnataka, a region in the southern part of India. It is similar to sambar saadam. This is a very famous and popular dish that is served in many restaurants in that region.
I learnt this dish specially for my father who loves bisi bele bath and I wanted to be able to make it for him.I am happy to report that I did and he loved it too.This dish is traditionally made with white rice and can be made that way too ,but for those of you who are looking for ways to incorporate brown rice in your diet since it is very healthy and has higher fiber content,this is a good dish to do it since the taste of the brown rice blends well in this dish. I have also added instructions to make this with white rice, if you would like to make it with white, do scroll to the bottom and read the notes at the end.
Check out these other one dish meals :
Kadambam saadam
Capsicum~ Bell Pepper rice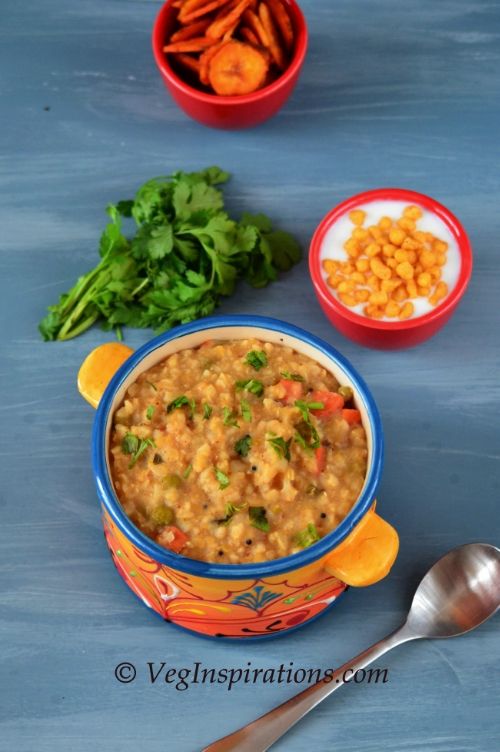 Click here for a printable view of this recipe
Ingredients and method to make
Bisi
bele
bath
1 and 1/4 cups brown basmati rice (or white rice, see notes)
1/2 cup
split pigeon peas (arhar dhal/ tur dhal/ tuvaram parappu)
2 cups mixed cut vegetables like carrots, beans, peas and cauliflower
1 big red onion cut finely (or 15 to 20 small pearl onions/ shallots)
1 Tbsp oil
Tamarind size of gooseberry
salt to taste.
1 Tbsp clarified butter (ghee/nei) (optional recommended)
4 to 5 Tbsp finely cut cilantro (coriander leaves/hara dhania/ kothamalli)
1 sprig of curry leaves (kadipatha/ karvapillai) (about 8 to 10 large leaves)
For the
masala
:
1 1/2 Tbsp
khus
khus (poppy seeds/ khasakhasa)
1 1/2 Tbsp Split yellow chick pea lentil (
channa
dhal/ kadalai parappu
)
1 Tbsp
Split black gram lentil (udad
dhal/ ulatham parappu)
2 Tbsp Coriander seeds (
dhania/ kothamalli virai)
3 tbsp grated coconut
5 Dry red chilies (lal mirch/ molaga vathal) (or to taste, see notes)
Place the rice and lentils in a suitable sized container, fill with water, swirl with water and drain. Repeat this process a few more times till the water runs clean. Fill the container with 4 cups of water and allow the rice and lentils to soak for at least 30 mins. Pressure cook until soft (it takes me about 4 whistles in my pressure cooker ). For white rice, see notes.
Soak the tamarind in warm water for about fifteen to twenty minutes.Press out all the pulp and extract the tamarind juice 2 to 3 times until all the tamarind juice has been extracted. Discard the seeds and fibers.
Heat a heavy bottomed pan, add split chick pea lentil and stir until it turns slightly reddish and aromatic,remove and place the lentils on a plate to cool. In the same pan, dry roast split black gram lentil until reddish and aromatic, remove and place on plate to cool. Similarly dry roast khus khus for a few seconds until it starts to get reddish and pops a bit. Remove from heat and cool. Dry roast coriander seeds until aromatic and reddish, remove and cool. Dry roast red chilies for a few seconds. Finally dry roast coconut until it turns reddish. Cool all the ingredients and powder in a mixer/ blender to a fine powder. Keep this masala aside.
Heat oil in a large pan, add onions to this and saute until translucent. Add curry leaves, and stir a couple of times. Then add vegetables, tamarind extract and salt to taste and cook until the vegetables are soft and the tamarind has lost its raw smell.
Mash the rice and
lentil mixture
a little,add to the vegetables then add the ground
masala
, adjust salt to taste and simmer on low for a few minutes until the flavors mingle. Adjust the water as required to achieve required consistency, this should not be too thick or too runny. Garnish with cilantro (coriander leaves) and serve hot with a little bit of ghee on top.
Serves approx 3 to 4
This tastes fantastic with some chips/ papad and
Boondi
raita
.
Notes:
If you are making this with white rice, usually something like sona masuri rice works well in this recipe. For sona masuri for 1 cup of rice, usually 3 cups of water works well to cook in the pressure cooker. So for this proportions of rice + lentils I would suggest about 4 and 1/2 cups of water.

Variation, you can reduce the red chilies by 1 or 2 and instead dry roast 1/4 Tbsp cumin seeds and 8 to 10 whole black pepper and grind that along with the masala for a slightly different flavor and taste.