Kadambam saadam is a cross between
Bisi Bele Bath
and plain ole
Sambar Saadam
. Saadam is a Tamilian word (Tamil in an Indian language) for rice. Kadambam means an assortment of flowers tied together, in reference to this dish, it means an assortment of vegetables and flavors coming together.
This simple to make, tasty single pot dish is well balanced with brown rice, lentil protein and vegetables, and is great for quick lunches or dinners. Just serve it with some papads/ appalams or chips and a raita or any other salad to complete the meal.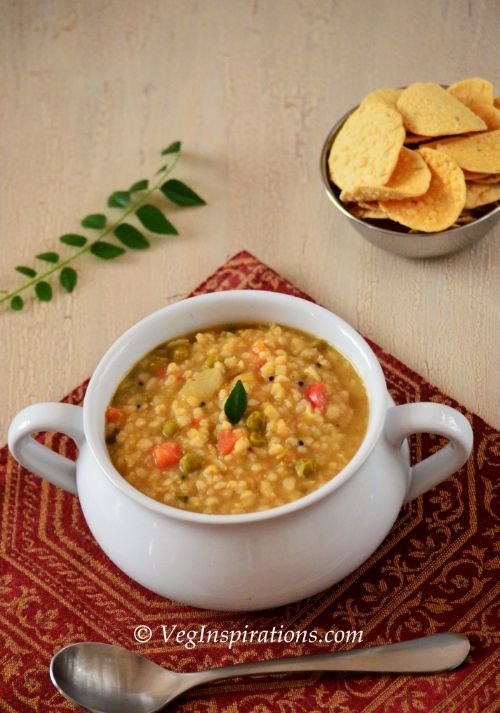 Click here for a printable view of this recipe
Ingredients and Method to make Kadambam Sadam
1 1/4 cup brown basmati rice
1/2 cup split pigeon peas (tur dhal/ arhar dhal/tuvaram parappu)
small gooseberry sized tamarind soaked in water for about 15 to 20 minutes.
Vegetables required (see notes for substitutions)
2 onions (pyaaz/vengayam) cut fine (see notes)
1 green bell pepper/ red bell pepper (simla mirch/koda molagai) deseeded and cut into small pieces
1 large carrot cut into small pieces
1 cup frozen or fresh green peas ( I used frozen thawed to room temperature)
For the masala
1 1/2 Tbsp split chick pea lentil (chana dhal/ kadalai parappu)
1/2 tsp fenugreek seeds (methi dana/ mendiyam)
1 1/2 Tbsp coriander seeds (dhania)
4 dry red chilies (or to taste)
Seasoning
1 Tbsp oil
1 tsp mustard seeds (sarson/rai/kadagu)
a pinch of asafoetida
Optional ingredients
1 tsp sambar powder (or to taste)
Garnish (optional)
Handful cilantro (coriander leaves) cut fine.
a few drops of clarified butter/ ghee/ neil (optional, omit for a vegan version)
In a bowl or utensil add brown basmati and lentils, mix well. Add water to the rice and lentils, swirl a few times with your hand and drain water. Then add 4 cups of water to it and let soak for about 30 to 45 minutes.
Pressure cook this brown basmati and lentils until soft (My pressure cooker requires about 4 whistles )
Soak the tamarind in enough water to submerge it for about 20 minutes or so Press tamarind to extract juice from it and pour the juice into another container. Cover the tamarind pulp with equal amount of water as first time and press tamarind again to extract juice from it, pour juice into another container. Repeat the earlier step one more time. Discard the pulp and seeds of tamarind and only retain its juice.
In a large heavy bottomed pan, dry roast the chick pea lentil stirring frequently, when the lentils give out a slight aroma and begin to become slightly reddish, add fenugreek seeds and stir until it begins to turn color.
Then quickly add coriander seeds, stir a few times and add dry red chillies. Stir this entire mixture a few times and then remove from heat and keep aside.
When cooled to room temperature grind to a smooth powder in a spice grinder. You can make this earlier and keep in an air tight container and use when required, or you can make double or triple the quantity and keep for future uses to make the process even faster the next time.
In the same pan, heat oil, add mustard seeds. When mustard seeds begin to splutter, add asafoetida if using, stir once or twice, then add onions and saute until onions turn translucent.
Then add all the other vegetables, sambar powder if using and stir a few times. Add tamarind juice, salt to taste and simmer until veggies are cooked and the tamarind juice loses its raw smell. .
Remove the cooked lentils + rice from cooker when the cooker is ready to opened and gently mash the two together,not completely just slightly for them to blend just a bit.
The copyright of this content belongs to Veginspirations.com
Pour this rice + lentil mixture into the tamarind+ vegetable mixture, add water if required to achieve required consistency. Adjust salt to taste if required, then add masala powder and simmer for a few minutes until the flavors mingle, remove from heat.
Garnish with cilantro and serve hot with a few drops of clarified butter/ ghee/nei on top with papads/ appalam/ chips and raita/ salad on the side.
Notes
If you have pearl onions, peel and use about 2 handfuls of pearl onions instead of regular onions, pearl onions enhance flavor in this dish.
You can substitute the rest of the vegetables with 3 to 4 cups of any other seasonal vegetables like green beans, cauliflower (gobi) , potatoes (aloo) , zucchini, bell pepper (simla mirch/koda molagai) etc.
You can cook the rice and lentils on the stove top too, just place the rice and lentils along with water in a large heavy bottomed pan and cook on low flame, stirring frequently and adding water as required until both the lentils and rice cook to softness.
You can make this with white rice too instead of brown rice. If you do use white rice, and you do not want it too spicy you may want to scale down the quantity of red chillies used in the recipe because white rice doesn't need as many chilies for heat as brown rice does :)