Adai is a savory crepe made with rice,lentils and spices and is a time tested recipe made in a lot of south indian homes.I have made it numerous times and always enjoy the dish.This is not only very tasty but also extremely nutritious, it provides a good source of protein since it contains three different type of lentils.I tried substituting brown rice instead of white rice recently and was blown away at the results.The final dish was indescribably soft and delicious.I have since used only brown rice in this dish.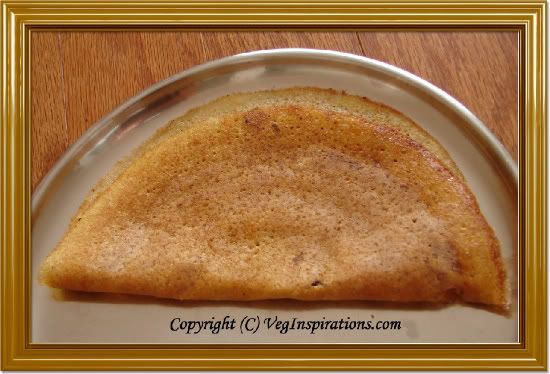 Click here for a printable view of this recipe
Ingredients and method to make Adai
1 cup long grain brown rice ( or white rice ) (chawal/ arisi)
1/2 cup split pigeon peas (tur dhal/ tuvaram parappu)
1/2 cup split black gram lentil ( udad dhal/ ulatham parappu)
1/2 cup split chick pea lentil (channa dhal / kadalai parappu)
6 small Thai or Indian green chillies (or according to taste) (hara mirch/ pachai molagai)
6 whole red chillies ( or according to taste) (lal mirch/ molagai vathal)
1 tsp chopped ginger (adrak/ inji)
1 stalk curry leaves (kadi patha/ karvapillai)
1/2 tsp asafoetida powder (hing/perungayam)
salt to taste ( I use about 3 tsp )
sesame oil (til ka tel/ nalla ennai) a little to shallow fry the adai
Soak the rice and the dhals for a minimum of 2 hours.Grind finely in batches with the curry leaves,green chilies,red chilies and ginger reasonably fine.For this particular dish it does not need to be ground very fine,the lentils and rice should look a little like medium rava ( semolina).Pour water while grinding.The batter should be not too thick not too thin.Should be about dropping consistency.
Place a tawa (griddle) on the stove.Heat.Pour small amount of batter and spread,spread thin if you like thin and crispy style pancake or a little thicker if you like softer ones.Pour about 1/4 tsp of sesame oil on the side facing up.Let the bottom brown slightly,then turn and cook the other side.Serve hot with honey.
The balance of the batter can be stored in the refrigerator for a period of 4-6 days easily and the adai can be made fresh and hot as needed.
It surprises a lot of people to partner honey with this dish,but in our home we have always had adai with honey and it goes very well together,the sweetness of the honey a good counterpoint to the spices in the adai itself.
Yields approximately 20 medium sized adai's
Notes :
With these proportions this pancake is about medium spicy.
Do note though that different green chillies and red chillies impart different levels of spiciness so do use the spices according to individual tastes.
If you are looking for Adai/ Dhal dosa recipes, here are a few more