May 12,2008
Cold ,wintry and rainy days like the one we are facing today always brings to mind the ultimate Indian comfort food of masala herb tea and masala peanuts.I have not made masala peanuts for quite a while now and the weather provided an excellent excuse to make this crunchy treat to go along with the tea.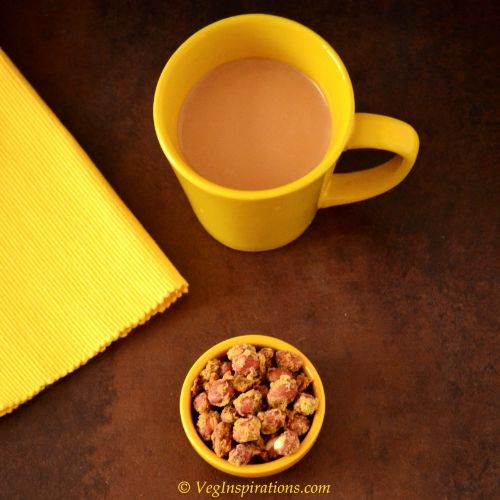 Click here for a printable view of this recipe
Ingredients and method to make masala herb tea.
Serves 2
One cup of water
One cup of milk
2 teaspoons loose tea
2 teaspoons sugar
5-6 mint leaves washed and torn into bits and pieces
1/2 teaspoon of powdered cardamom
1 inch ginger grated
1.Place the water on the stove,add grated ginger,mint leaves,sugar and cardamom.
2.Simultaneously heat the milk in a separate container or in the microwave.When the water boils add 2 spoons of loose tea.Immediately shut off the stove and let the tea stand for a min to steep.
3.Add the hot milk,mix with a spoon and strain the liquid into two mugs and enjoy yummy masala herb tea.
Masala Peanuts (Spicy peanuts)
Normally masala peanuts are made by deep frying the peanuts,since I have been trying to cut calories wherever possible without compromising on taste,making masala peanuts in the microwave has worked out for me as a good alternative.
The surprise ingredient in this dish is the moong flour,I used to make masala peanuts in the past without this,with only the rice and the gram flour,but adding the moong flour enhances the taste and makes the masala peanut quite crunchy and tasty.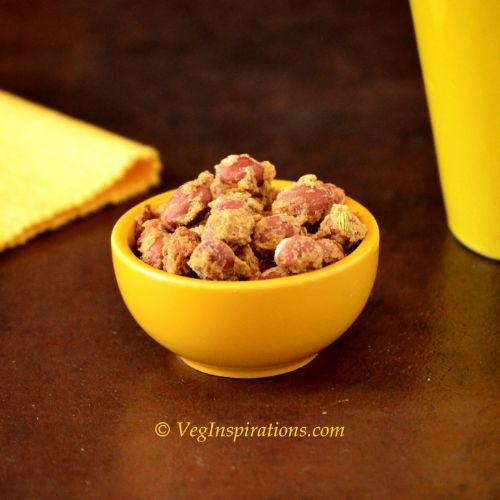 Click here for a printable view of this recipe
Ingredients and method to make microwave masala peanuts.
2 1/4 cup of raw peanuts
1/2 cup besan ( gram flour)
1/4 cup rice flour
1/4 cup moong flour
2 tsp fennel seeds
1/4 tsp hing powder
2-3 tsp of corn oil or mazola oil
Chili powder to taste ( I use about 3/4 tsp which makes it about medium spicy)
salt to taste ( I use about 2 tsp)
3/4 cup of water.
1.Place the raw peanuts in a microwave safe bowl.Put in all the flours and spices and mix all the dry ingredients well.Lastly put the water and oil and mix it in well.
2.Place the bowl in the microwave, cook till done.It takes about 7 -12 minutes depending on the microwave.After every minute the ingredients in the bowl need to be stirred and initially it may tend to form large lumps and it needs to be broken off with a fork.
Also a point to note is that at the end of this time the peanuts need to be cooled for a few minutes since they seem to be softer when they are warm and the crispiness can be assessed better when cool.This snack has a good shelf life and can be stored for 8-10 days in an airtight container.
Just a quick note though these peanuts are very very addictive and it is difficult to stop with just a few,so be prepared to dig in and enjoy them.