Tofu is made from dried soybeans. It is high in protein, low in fat and very low in saturated fat. Tofu like all soy products is good in moderation. I use it from time to time in different curries. This one with spinach is somewhat similar to palak paneer. Palak Paneer is a curry made with spinach and Indian cottage cheese, it originates from the Northern region of India and is very popular.
This curry uses tofu in place of paneer. When using tofu in curries, I have noticed that simmering it for a while in the gravy allows the tofu to absorb the flavors and spices and results in a more flavorful curry. This is a quick, simple and easy curry that tastes great with any kind of Indian flat bread like
phulkas
, chapathis, naans or
kulchas
or even with plain steamed rice or
cumin flavored rice.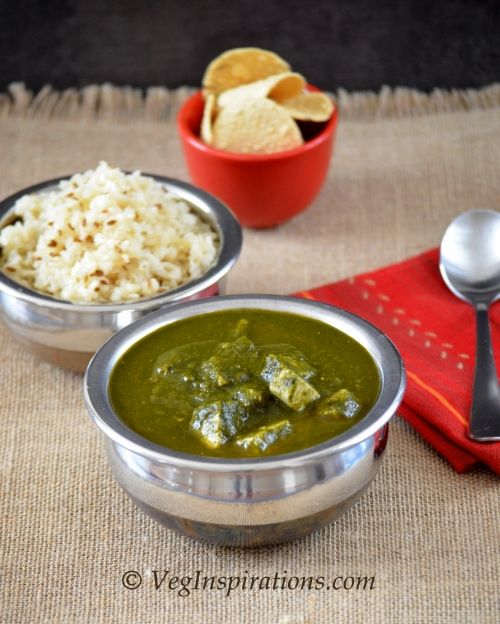 Click here for a printable view of this recipe
Ingredients and method to make Palak tofu ( Spinach tofu)
3 packed cups of spinach (palak ) leaves
1/2 lb of firm or extra firm tofu drained & cut into small pieces ( yielded 1 heaped cup of tofu pieces)
1 large red onion cut finely
2 medium sized tomatoes cut finely
1 sliver of ginger cut into small pieces
1 clove of garlic cut into small pieces
1 Tbsp of oil
1/2 tsp chili powder or to taste
1/2 tsp Garam masala (or to taste) (to make your own garam masala check out
this post
)
salt to taste
In a heavy bottomed pan, add spinach leaves about 1/4 tsp salt and a little water and cook until the leaves are wilted. Remove from heat and keep aside.
In the same pan, heat oil, add onions, ginger and garlic and saute until onions are translucent. Then add tomatoes, garam masala, chili powder and stir until tomatoes are soft and mushy. Remove from heat and cool to room temperature. Puree this mixture until it is smooth and add it back to the pan.
Add a little water to the blender and swirl to get the balance of the paste and add to the pureed mixture in the pan. Add tofu pieces, salt to taste and simmer mixture for at least 15 mins.Stir a few times in between and check to see if additional water is required during this time.
In the meanwhile, puree the cooked spinach until smooth. Add pureed spinach to the simmering tofu gravy and mix well. Adjust spices/ salt if desired and allow this mixture to simmer for a few more minutes.
Remove from heat and serve hot with any kind of phulkas/ rotis/ chapathis/naans or kulchas (Indian flat breads) or with some plain steamed rice or jeera rice.
If you are looking for recipes with spinach/ palak/ keerai, here are a few more :