My fruit basket held a couple of bananas that were beginning to look rather sad and would start to get squishy in another day or so. In order to use it up, I began to look up bread recipes and found one in a baking cookbook of mine for a banana date bread. I thought the combination of banana and dates sounded rather appealing and decided to give it a try.
But the recipe in the book called for butter, eggs and apf, all of which I was not in the mood to use, not to mention I hardly ever keep this stuff at home. So I decided to tweak the recipe considerably and make this an egg free, butter free version with whole wheat flour. The result was this delicious and tasty bread, the eggs and butter were definitely not missed:)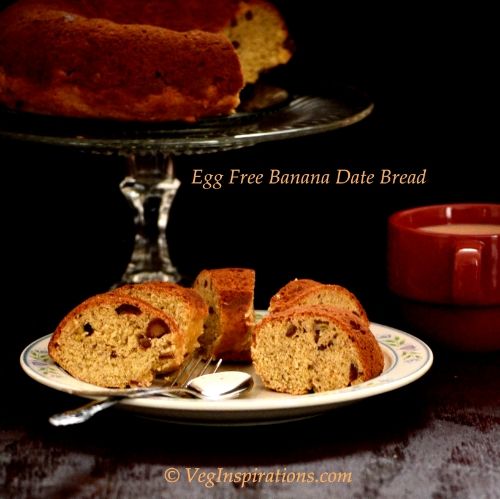 Click here for a printable view of this recipe
Ingredients and method to make the banana date bread
Dry ingredients
1 cup whole wheat flour (atta/ godumai maavu)
1 cup unbleached all purpose flour (maida)
1 cup dates pitted and chopped
2 tsp baking powder
1/2 tsp baking soda
1/4 tsp salt
1/2 cup sugar (fine)
Wet ingredients
2 large bananas mashed (yielded 1 cup of mashed banana)
1/2 cup milk
1/4 cup oil
1/2 tsp vanilla essence
Pre heat oven to 350 deg F
Grease a loaf pan/ bundt cake pan and keep aside.
In a large bowl, mix together both the flours, salt, baking powder, baking soda and mix well.
Add sugar and mix again.
Add mashed bananas, milk and oil, one at a time and mix slowly and gently.
Add dates and mix again. Finally add vanilla essence, mix well. Pour this mixture into pre greased pan.
The copyright of this content belongs to
Veginspirations.com
Bake in preheated oven 30 to 40 minutes, or until toothpick inserted into the center comes out clean.
Cool, cut into slices and enjoy :)
This bread tastes best fresh or within a couple of days of making if stored in a cool dry place in an airtight container.