It was just one of those days,the vegetable drawer in the refrigerator looked spacious as it rarely does,all the ideas for dinner running through my head also required a run to the grocery store and dinner time was approaching rapidly.Finally in a desperate bid to find something interesting to make I dug through my pantry and found some potatoes.
Yea !! potatoes are always a huge hit in my home and the good thing about them are they are so versatile and can be paired with a lot of different veggies for quick tasty side dishes and they can always be depended upon in a pinch.
This curry is very well liked by all my cousins and friends who have tasted it. I find it a great filling in a sandwich or in a wrap and also great to go with roti's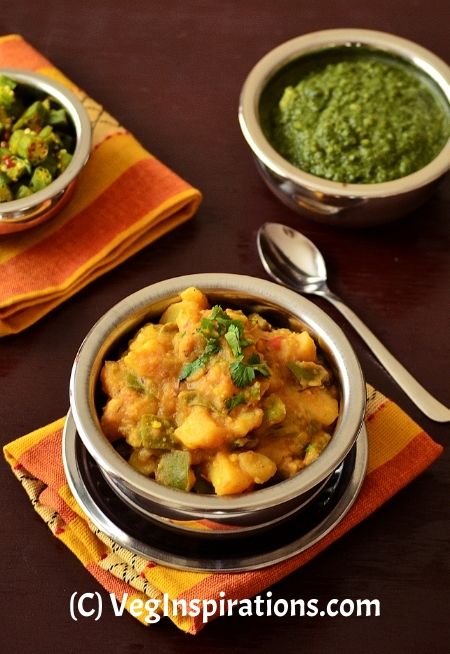 Click here for a printable view of this recipe
Ingredients and method to make the Green bell pepper & potato side dish (capsicum
aloo
sabzi
)
1 large onion cut finely.
3 potatoes sliced long or cubed
3 large green bell peppers (capsicum/koda molagai) deseeded, halved and sliced long or cut into 1/2 inch pieces
1 large tomato cut finely
1 tsp cumin seeds
2 tbsp oil
1/4 tsp turmeric powder
1/2 tsp chili powder (or to taste)
1/4 tsp ground ginger powder
1/4 tsp
ground coriander (dhania powder)
1/4 tsp cumin powder (jeera powder)
3-4 tsp ground roasted peanut powder
salt to taste.
chopped cilantro (coriander leaves) for garnish.
1.Heat the oil in a pan,put in the cumin seeds.
2.Add the sliced onions and saute until transparent,add the tomatoes and saute for a few minutes till soft.
3.Add the turmeric powder,chili powder,dhania powder and ground ginger powder and mix well
4.Add the potatoes and bell peppers, salt to taste, sprinkle a little water and cook until potatoes are soft.
The copyright of this content belongs to
Veginspirations.com
5.Sprinkle the roasted peanut powder.
Garnish with cilantro.Serve hot with Roti/chapatti (Indian Flat Bread).
Serves approx 3-4.
Notes:
If you like your curry to have more gravy you can add a little more water and cook until the vegetables are soft. Because of the potatoes the gravy thickens a little and it tastes very good with most types of Indian flat bread or even a side dish for plain steamed rice