I have had this posting of lentil
roti
ready to post for more than a week now and for some reason or the other have not been able to post the same.Finally today I decided that I would not procrastinate further and would post this recipe immediately.
This lentil
roti
is a regular in my kitchen and is simple and easy to make,very tasty and packed with nutrition and an excellent source of protein too.Being a vegetarian I look to include more protein in my diet and I find that this is a good way to incorporate a little extra protein in a simple way.
The flavors in this
roti
are not overwhelming, so this
roti
works well in combination with all the usual gravy curries and
raitas
.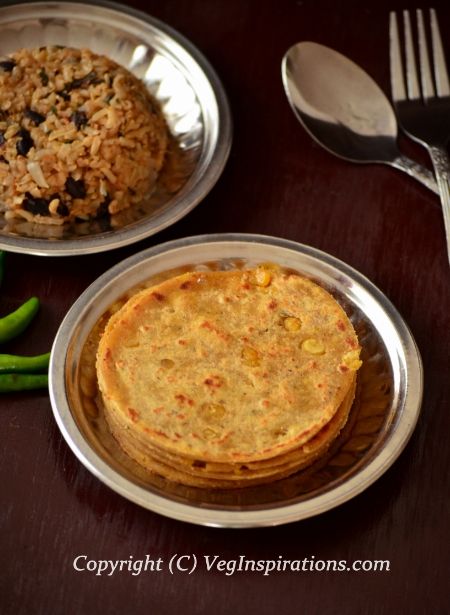 Ingredients and method to make the Lentil
Roti
2 and 1/2 cups whole wheat flour
1 cup thick, cooked, mashed and cooled lentil paste (dhal paste) (see notes)
1/4 tsp dry mango powder (amchur powder)
1 tsp carom seeds (ajwain/omam)
1/2 tsp garam masala (can be substituted with any other curry powder)
You can find my garam masala recipe
here
salt to taste
1/2 tsp red chili powder (or to taste) (can be substituted with cayenne powder)
small pinch of turmeric(optional)
a little extra flour for dusting
a little oil or clarified butter/ghee to cook the
roti (use oil to make a vegan version)
In a large bowl, add all the dry ingredients (that is, whole wheat flour, carom seeds and all the spices) and mix well. Keep aside.
The copyright of this content belongs to
Veginspirations.com
Add thick, cooked and mashed lentil paste to the flour mixture and knead slowly. Add water only if and as needed to knead to a soft and non sticky dough.
Keep dough covered and allow to "rest " for at least 30 minutes.
Divide the dough into lemon sized balls and with the help of a little flour, roll out into as thin or thick circles as you like.
Heat a flat pan/
tawa
/griddle and cook the
roti
until it has golden brown spots on each side, applying a little oil/ghee on each side (use oil for a vegan version)
Serve hot with
raita
or curry of choice.
Notes:
For the lentil paste, soak either 1 kind of lentil or a combination of lentils for about 30 minutes or so. Pressure cook, or cook on stove top adding just enough water as required until it is soft and mushy. Mash the cooked lentils thoroughly and keep aside to cool. Add to the flour mixture above and knead. I usually use a combination of split mung bean lentil (mung/moong dhal), split pigeon peas lentil (tur dhal) and split chick pea lentil (chana dhal) for this roti. If using chick pea lentil and soaking and cooking along with the other lentils, chick pea lentil does not mash thoroughly and can sometimes have a bite, I like it this way, but if you do not avoid this lentil and use any other lentil in its place.