For a while now I have been wanting to make pav ( an Indian version of bread).Pav refers to a simple and humble version of bread that is made in India and is sold at bakeries all over, in addition you have "Pav wallahs " as they are known in Bombay, go from street to street on the bicycle selling this bread in addition to other goodies from their bakeries like nankhatai (an Indian cookie). This bread is used for a lot of fast food/ street food goodies like Vada pav (Vada is spiced potatoes dipped in batter and fried and placed between (Pav) bread with some spices/chutney to further spice it up) and Pav bhaji ( a yum combination of bread and mixed vegetables served with a dollop of butter) Pav is different from the regular dinner roll as it is not very sweet and tends to have a more chewy quality to it, I often feel it resembles the ciabatta bread but has a softer feel to it.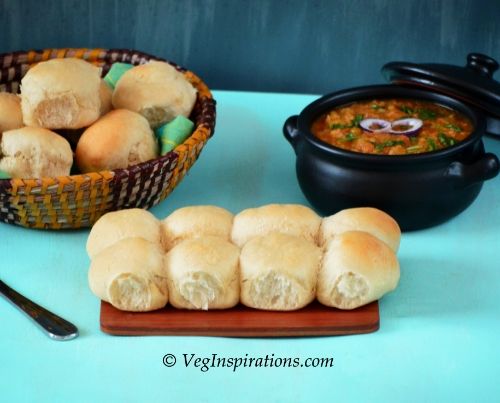 Ning from Heart and Hearth tagged me
to participate in a very worthwhile event by Breadline Africa.This tag served as a motivation for me to get around to making this pav. This tag is also a challenge, and the challenge is to do something that you do not do normally, and baking this pav definitely qualifies on two levels, one I have never baked pav before, so it is definitely different from my usual baking. Additionally I never bake with all purpose flour , but this time I decided to make an exception, I thought this tag provided the perfect excuse to bake with all purpose flour :-) For pav recipes I used refered to Cham's recipe of pav here and to Jugalbandi's recipe of pav here and came up with a slightly modified version of my own which I give below.
I made two versions of this pav one completely with all purpose flour and the other partially with whole wheat flour and partially with all purpose flour. The breads turned out soft and perfect.The only thing I thought I would change was to make smaller pav the next time and keep them closer on the baking tray to get the squarish shape that pav is normally associated with. I thought both versions were very tasty but mostly I was relieved as I normally am after making bread, that the yeast did not fail to work and that the bread actually rose as it should :-)
Ingredients and Method to make Pav/ Bread
3 1/4 cups all purpose flour
1/2 cup warm milk (or warm water, see notes below)
2 Tbsp melted butter ( or oil for a vegan version)
a little additional butter (or for a vegan version, use non diary butter) to apply on top of the bread
For the whole wheat flour pav I substituted all purpose flour with 1 1/2 cups whole wheat flour + 1 3/4 cups all purpose flour and proceeded in the same manner as below
Mix sugar and yeast in warm water and keep aside for a few minutes until it froths up
In a large mixing bowl, mix the all purpose flour and salt and keep aside.
Add the yeast and warm milk to the all purpose flour and knead to make a soft and smooth dough.
Add melted butter (or smart balance) to this and knead some more until the dough is soft and non sticky and smooth. Knead totally for about 10 minutes
Place this dough in a greased container and keep covered with plastic wrap or tea towel and keep aside for the dough to rise (approximately one hour)
Grease a baking tray and keep aside.
When the dough has risen (should be double) punch it down gently and make equal sized balls with the dough and place it on the baking tray about 1/2 an inch apart.
Cover with a plastic wrap and let rise for another hour.
Preheat oven to 375 deg F.
After the dough has risen the second time (notice that the bread is joined at the ends), place the baking tray in the oven and bake for about 15 minutes until the bread is baked to a nice brown color on top.
Remove from oven, when you tap the top of the bread it will be a little hard and sound a bit hollow, apply a little butter/smart balance on top and bake for another couple of minutes.
Remove, pull apart and serve with vegetables as pav bhaji or with soup or just enjoy one warm from the oven with a little butter or jam
For a more authentic pav or a vegan version use only water and skip the milk.