For those of you who have seen the radishes that are available in India and the ones sold here in the US,you would know they are nowhere alike .The ones in India are large white ones that look rather rugged unlike the pretty and dainty pink ones I see in the grocery here.For some inexplicable reason I have never bought and used radishes since I came to the US.Every time I go past that section of the produce section I just seem to ignore this particular vegetable and keep moving on.
Finally one day last week I actually SAW these radishes and bought it with the vague intent of making "something" with it.I have faint memories of my mother making a paratha using radishes as a filling and remember she used to labor over it quite a bit,squeezing out the excess water from the grated radish and storing it to be used in sambhar or in a curry.I decided to take the simpler route by adding the grated radish to the flour before kneading it into dough. The roti's turned out soft and tasty and I am pretty sure radishes are going to feature more regularly in my grocery list from here on.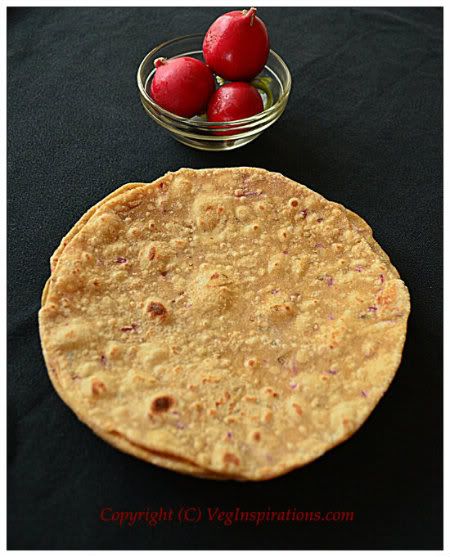 Click here for a printable view of this recipe
Ingredients and method to make the Mooli ki roti/ radish roti
3/4 cup grated radish (Mooli/ Mullangi)
1 1/2 cup whole wheat flour (atta)+ a little extra wheat flour or rice flour for dusting
1/2 tsp coarsely ground coriander powder (dhania powder) (can be substituted with finely ground coriander powder, see notes)
1/2 tsp coarsely ground cumin seeds (Jeera/ jeeragam powder) (can be substituted with finely ground cumin powder, see notes)
1/2 tsp chilli powder (or to taste)
1/4 tsp cumin powder
1/4 tsp coriander powder
handful cilantro (coriander leaves/ hara dhania/ kothamalli) finely chopped
salt to taste
1/2 cup water (approximately)
Little oil to cook the roti's
Mix together all the dry ingredients (items 2 through 6) and mix well Add the grated radish,chopped cilantro and salt to taste and mix well. Add water little by little and keep kneading into a dough. Knead well until dough is soft. (Remember the dough should be soft but not sticky)
Roll into large lemon sized balls and roll out into a slightly thin circle using a little wheat/rice flour for dusting. Place this on a hot pan/skillet/griddle/tawa and cook on both sides using a few drops of oil until each side has a few light brownish pink spots.
Serve hot with curry /dhal/ yogurt/pickle/raita of choice. Yields approximately 12 rotis
Notes: In case you plan to keep the balance of the dough in the refrigerator, the radish releases a little water and makes the dough a bit sticky after a while .In this case just before using add one tablespoon or two of wheat flour to the dough and knead again before proceeding with the next steps.
The point of using coarsely ground coriander seeds and cumin seeds was to taste the "bite" of the coriander seeds/cumin seeds, in case you prefer it without the bite you can use equivalent amount of finely ground coriander powder.