Kootu refers to a type of curry that is commonly prepared in southern India.It includes one vegetable usually from the squash,melon or gourd family like white squash,white melon, bottle gourd or zuchini,at least one type of lentil and the flavor for this curry is imparted from coconut,cumin seeds and dry red chillies. This is not a very spicy curry though it could be made that way if you want and is usually served with a side of
sambar
or rasam and rice.It is not supposed to be runny,but at the same time it is not supposed to be too dry either,the gravy for the kootu is on the thickish side.
What I love about this dish aside from the simplicity in its taste is the three types of lentils,one cooked and mashed, another with a slight bite and the third used in tempering with a crunch all offering different textures and tastes. This curry is also delicious to eat on its own or can be served with indian flat breads like Roti/Chapatti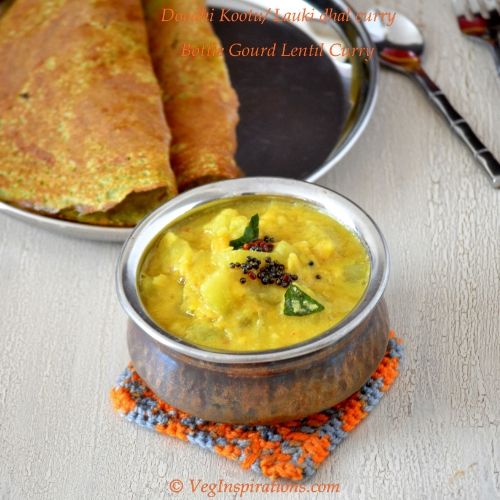 Click here for a printable view of this recipe

Ingredients and Method to make Dudhi Kootu
4 cups of bottle gourd (peeled and cut into small 1/2 inch pieces)
1/2 cup of split pigeon peas (Tur dhal/ tuvaram parappu )
1/4 cup of split chick pea lentil (Chana dhal/ kadalai parappu)
1/3 cup grated coconut (nariyal/ thengai poo)
3-4 dry red chillies (or according to taste)
3/4 tsp cumin seeds (jeera/ jeeragam)
2 cups of water or as needed
salt to taste (namak/ uppu)
1/4 tsp turmeric powder (haldi/ manjal podi)
For tempering
2 tsp oil
1 tsp mustard seeds (rai/ kadagu)
1 tsp split black gram lentil (udad dhal/ ulatham parappu)
a pinch of asafoetida (hing/ perungayam) (optional)
Optional garnish
1 sprig of curry leaves (about 7 to 8 leaves) (kadi patha/ karvapillai)
Pressure cook the split pigeon peas with sufficient water until soft. This can also be cooked on the stove top or in the microwave until soft and mushy. Mash the cooked lentil well and keep aside.
Grind the coconut, cumin seeds and dry red chillies adding very little water to a smooth paste. Keep aside.
y bottomed pan,add the split yellow chick pea at the bottom,then add the cubed bottle gourd, 2 cups of water, salt to taste, turmeric powder and cook on low to medium heat until both the lentil and the bottle gourd are soft but not mushy.
Add the cooked red gram lentil, the ground paste and mix well. Let this simmer for a few minutes. Adjust salt to taste.
The copyright of this content belongs to
Veginspirations.com
Heat the oil and add the mustard seeds and split black gram lentil, when the mustard seeds start spluttering and the black gram lentil starts turning red add pinch of asafoetida if using, stir once or twice then add this oil+mustard seeds+lentil combo to the cooked bottle gourd and mix well.
If planning to garnish, then tear curry leaves into smaller pieces and add on top of the curry. Mix well.
Serve hot. Serves 2 to 3