Cabbage is one of those vegetables that is touted for its cancer fighting properties and also has significant amounts of Vitamin C, fiber and potassium. For calorie counters an interesting fact about cabbage is that it is one of those vegetables that has fewer calories in comparison to other vegetables and it is said to speed up metabolism too. Another little known fact about cabbage that I learned recently is that cabbage is a muscle builder, blood cleanser and eye strengthener. Really who would have thought that cabbages were good for the eyes...
If reading all these health benefits of cabbage makes you want to try something with it right away, then here is a simple yet interesting and delicious curry that uses this vegetable. This dry curry is a traditional recipe originating from the southern part of India. This works well as a side dish with rice and
sambar
or even with any kind of phulkas/ rotis (Indian flat bread) or if you are in the mood, you can even just enjoy this curry on its own.......:)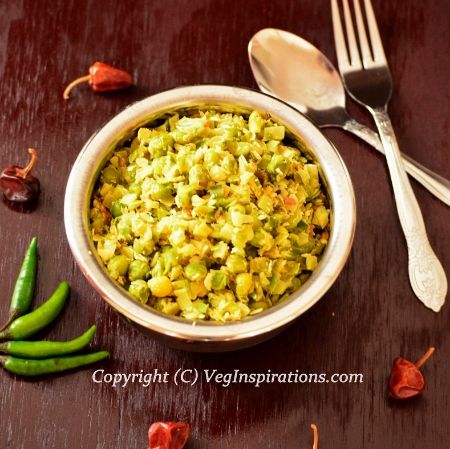 Click here for a printable view of this recipe
Ingredients and Method to make the cabbage curry
6 cups green cabbage cut fine
2 1/2 cups frozen peas
1/4 tsp turmeric powder
salt to taste
5 to 6 tsp grated coconut (or even more if you like)
For tempering
1 tsp mustard seeds
1 tsp split black gram lentil
1 tbsp oil
4 to 5 curry leaves (optional)
2 red chillies cut into little pieces (or according to taste)
Add the cabbage and frozen peas to a heavy bottomed large pan, add turmeric and salt, mix well, close with a lid and cook these vegetables on a low heat WITHOUT adding water.Keep stirring from time to time. When cooked keep aside.
In a smaller pan, heat oil add the mustard seeds and the split black gram lentil to it,when the black gram lentil begins to turn reddish and the mustard seeds begin to pop,lower the heat and add the red chillies and curry leaves to the oil. Watch out as the curry leaves will cause some oil to splatter.
Add this oil to the cooked cabbage and peas and mix well.
Add the grated coconut to the vegetable as well and mix well. Serve hot with rice,sambar and pappads or with roti.
Serves 2 to 3
Notes :
In place of peas you can use cut carrots too.
Or you can use half peas and half carrots.
In case you do not require spice in your curry completely omit the red chillies
Now on to other things.
Sowmya
,
Dershana
and
Srilekha
have all passed me the Good Job Award. Thanks to all three of you for thinking of me and my blog
I would in turn like to pass on this award to
Natashya
,
Cham
,
Laavanya
,
Srividya
,
Uma
,
Divya
,
Meera
and
Anjali
.
Related Recipes
Potato Curry