Jeera rice (Cumin rice) is a simple and delicious rice variety that made its way into my kitchen courtesy of my father in law.He tasted this rice at a restaurant and wanted to replicate it at home,as a result, on one of those occasions when the entire family seemed to be tinkering in the kitchen we landed up making this rice for the first time.
Since then this has been a regular feature in my kitchen. Combine this with any curry and you have a flavorful, delicious meal. Try this when you have some side dishes that tend to be heavier and you want something more flavorful than just plain rice and an alternative to the usual pulao or biryani.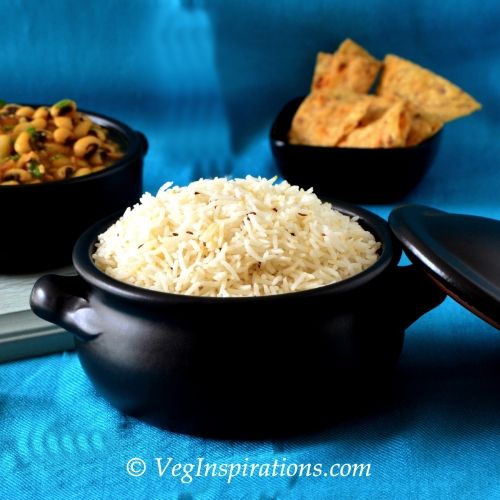 Click here for a printable view of this recipe
Ingredients and method to make the Cumin Rice (Jeera Rice )
1 1/2 cup long grain basmati white rice
2 Thai or Indian variety green chillies (cut lengthwise)(optional or according to taste)
1 and 1/2 tsp cumin seeds
3 tsp clarified butter (ghee/nei)
salt to taste
Place the rice in a large bowl, fill with water and swirl with hand and drain water. Do this a couple of times. Fill the bowl with 1 and 3/4 cup of water and allow to soak for 15 to 20 mins. Proportion of water to rice is 1 and 1/4 cup of water for 1 cup of rice. Pressure cook the long grain basmati rice with soaked water until cooked but with each grain separate. When the pressure subsides, open pressure cooker, remove rice and allow it to cool a little.
For rice cooker instructions scroll to the end of the recipe
In a large heavy bottomed pan heat the clarified butter and add the cumin seeds to it.
When the cumin seeds sizzle, add green chillies and stir a few times
Add the cooked rice and salt and mix well.
Serve with
curry of choice
.
Serves about 3 to 4.
Notes:
Oil can be used instead of clarified butter but this rice tastes best when made with clarified butter.
Variations:
Chopped red onion (about 1 small one for this quantity of rice) can be sauteed along with the green chillies for a slightly different flavor.
Rice Cooker Directions:
If using the rice cooker, wash and drain rice as mentioned above and place the rice in the rice cooker along with water in the ratio of 1 : 1.5 cups. That is for 1 cup of white rice, use about 1 and 1/2 cups of water. Allow the rice to soak for 15 to 20 mins, then set the cooker to white rice settings. When the rice is ready,allow to cool slightly. Place a small pan on medium heat and heat clarified butter/ oil, add cumin seeds, then green chilies as mentioned above, then pour the entire clarified butter + cumin seeds on the cooked rice. Add salt to taste, mix gently and serve.