The first time I made pizza from scratch including the crust was a long time back. In those halcyon college days when everything seemed adventurous and lack of ingredients or the long process involved did not faze me or my cousin who used to hang out with me and who joined me in my kitchen adventures.The first step in making the pizza involved a trip to various stores around our block armed with a long list of ingredients that included basics such as all purpose flour, yeast and marinara sauce, since all of these items were completely absent from my pantry in those days. My oven at that time was a tiny space ship shaped portable oven that had a small circular glass on the top that we would keep looking into to see how the baking was proceeding. Maybe it was beginners luck or maybe it was because we followed the recipe to the letter but our first attempt at pizza itself was a wonderful success.We thoroughly enjoyed both making and having it :-)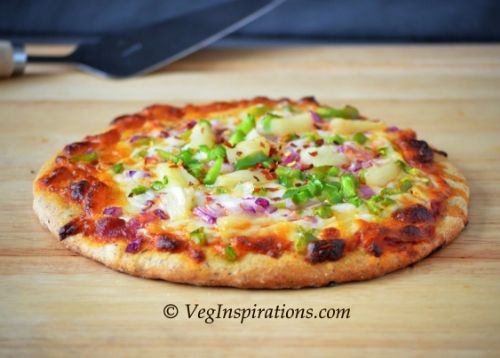 After that one time of making pizza from scratch, pizza has always meant either dine in or to go, until recently when I started making my own pizza base again. After several attempts and experiments with varying different quantities of flours, I now have a version that has become my go to version for whole wheat pizza.
Updated to add: I have now included bread machine instructions at the bottom of the recipe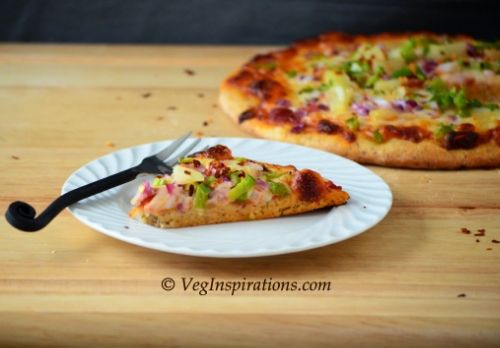 Click here for a printable view of this recipe
For the crust.
2 and 1/4 cups whole wheat flour (atta)
3/4 cup all purpose flour (maida) (see notes)
1/4 cup vital wheat gluten flour (optional, see notes)
2 heaped tbsp cornmeal (makkai ka atta)
1 1/4 cup warm water
1 tbsp active dry yeast
1 tsp sugar
3 tbsp olive oil
1 tsp Italian seasoning (optional)
a little extra cornmeal for dusting.
For the toppings
Marinara sauce as required
choice of toppings (about 1 cup per pizza) (I have used any combination of onions, bell pepper (capsicum), mushrooms, jalapenos and pineapples during my various tries with this pizza and liked all versions)
Shredded Cheese as per choice
For cheese I tried a new type of grated cheese available in the grocery called pizza blend cheese which was a mixture of mozarella and cheddar, but you can use mozzarella cheese that is usually used in pizza too.
a little olive oil to apply on top (optional)
serve with a little crushed red pepper flakes (optional)
Dissolve yeast + sugar in warm water and keep aside for 5 to 10 minutes until slightly frothy
In a large bowl mix together all the flours, salt and Italian seasoning
Add water with yeast and olive oil to the flour mixture and knead. Knead for a few minutes, apply a tsp of olive oil to it and keep aside in a warm place to rise for about an hour. (I placed it in my oven with the oven light on so that it would provide some warmth)
After the dough doubles, flatten it a little and divide into two or three balls. Let the divided dough rise again for about an hour.
Pre heat oven to 425 deg F. Roll one of the balls of dough into a thin crust or regular crust with a help of a little cornmeal if required.If you are adventurous you could try tossing the dough to stretch it or use your fists to stretch and shape the dough too, I just rolled it out normally this time :-)
Once rolled out, brush on a little olive oil on top, then spread marinara sauce as required.
Add cheese as required, then toppings as per choice.
The copyright of this content belongs to
Veginspirations.com
Bake in the oven for about 20 mins to 25 mins depending on thickness until the crust is crisp and the cheese is melted and slightly golden on the top. Sprinkle a few crushed red pepper flakes on top (optional) and enjoy the pizza while still hot.
If not using all the dough refrigerate the balance dough for a day or two and remove and use as required.
Yield will depend on thickness and size of crust. (I have gotten about 3 personal sized pizzas with this quantity or one extra large pizza base depending on how I rolled it out )
Notes: I have made this with all whole wheat flour too in the past, but find that a combination of whole wheat flour, all purpose flour and vital wheat gluten gives me the best results. If you get whole wheat bread flour that would be a good choice to use for this base, and you can skip the vital wheat gluten flour. Also you can reduce the all purpose flour to 1/2 cup and increase the quantity of whole wheat flour by the same quantity.
Bread machine instructions
Place all the ingredients in the bread machine pan in the order specified in the manual. Mine specifies, liquids first, then dry ingredients and lastly yeast. I used 1 tbsp bread machine yeast, and skipped the italian seasoning entirely. Set the bread machine to dough cycle, when completed, remove and proceed with the rest of the recipe.