Butternut squash like most other winter squash is an excellent source of Vitamin A (in the form of beta carotene) Vitamin C, potassium , dietary fiber and manganese.It is a also a good source of folate, vitamin B6, vitamin B1, copper and omega 3 fatty acids.One of the most abundant nutrients in squash which is beta carotene is a very powerful anti oxidant and also has anti inflammatory properties. The best way to select squash is to choose ones that are firm and heavy for their size. The rind should be hard all over and there should be no softness in any part of the rind.
I use butternut squash often in
soups
, but I also like using it in curries. This easy and quick curry is something I make from time to time with butternut squash. I love the contrasting elements in this curry, a little sweet, a little heat/ spice and a slight undertone of bitter. It tastes amazing with some
phulkas/ rotis
but you can just as easily make this as a side dish for any Indian themed meal. I like it so much that sometimes I just have some in a bowl and skip the bread entirely :)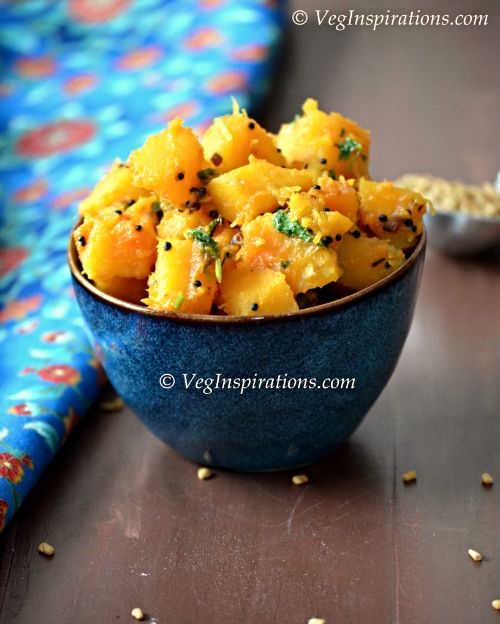 Click here for a printable view of this recipe
Ingredients and method to make butternut squash curry
4 1/2 cups - 1 inch pieces of butternut squash (or pumpkin/ kadoo/ parangikkai)
1 Tbsp oil
1 tsp
mustard seeds (rai/ sarson/ kadagu)
1/2 tsp
fenugreek seeds (methi seeds/ mendiyam) (see notes for variations)
2-3 Thai or Indian variety green chillies cut very fine (or according to taste) (hari mirch/ pachai molagai)
salt to taste (namak/ uppu)
1/4 tsp turmeric powder
1 Tbsp grated jaggery (or 2 tsp sugar) (gud/ vellam or cheeni/ sakkarai)
2 Tbsp cilantro cut fine for garnish (hara dhania/ kothamalli)
Remove skin and cut the butternut squash into 1 inch pieces, discard the seeds in the center.
Heat oil in a large heavy bottomed pan, add mustard seeds to it.When the mustard seeds start to splutter add fenugreek seeds, when they start turning a little browner, add finely cut green chillies to it. Stir chillies a few times, then add turmeric powder, stir once or twice.
Add squash pieces, salt to taste and mix well. Sprinkle a few spoons of water, cover with a lid and cook squash on low to medium low heat, stirring occasionally to cook evenly. Cook until squash is soft and cooked, yet retains its shape and is not mushy.
Add jaggery/ sugar ( if you plan to use it ) and mix well, heat on low for another minute or two, garnish with cilantro and serve hot.
Variations: If you cannot find butternut squash, this curry can also be made with pumpkin (or kadoo/ lal bhopla/ parangikkay) as it is known in India)
If you do not like the slight bitterness imparted by fenugreek seeds you can substitute it with equal quantity of split black gram lentil (udad dhal/ ulatham parappu)
This can be made as a side dish and paired with rice and rasam or sambar to make a complete traditional Indian fare.
Related Recipes
Potato Curry