Spring is definitely getting ready to arrive in our neck of the woods. This year, much more than previous ones, I have been eagerly looking forward to the transition from cold weather to more pleasant days. The daytime temperatures have already begun to get just a tad warmer and it is a welcome change from all of the bitterly cold days that we had just a few weeks ago. But the evenings are still pretty cold, and cold evenings always inspire me to make some soup.
On one such evening I ended up making this butternut squash soup. This has been on my to do list ever since I made
this carrot coconut soup
, but I never got around to actually making it. Finally I made this soup......and I am really glad I did..... :-) The soup turned out really well. Roasting vegetables brings out their flavor and enhances the taste of this soup. The slight amount of coconut milk adds a touch of creaminess without overwhelming the other flavors of the soup. On the whole this soup turned out to be a winner in my books.......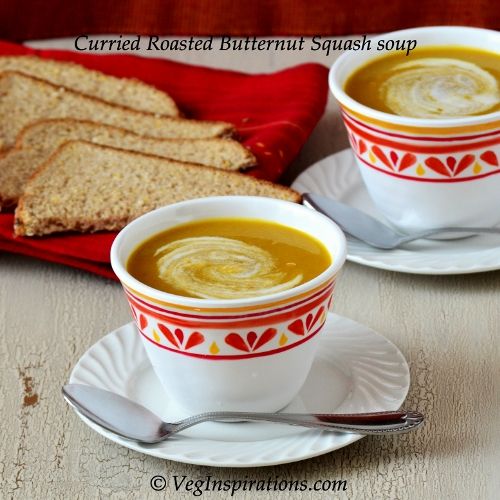 Click here for a printable view of this recipe
Ingredients and Method to make Roasted Butternut squash soup
1 butternut squash, peeled, de seeded and cut into 3/4 inch to 1 inch circles
3 large carrots washed, wiped dry, ends cut off and cut into 2 inch pieces
3 small onions peeled and quartered
2 tbsp any oil + 1 tbsp coconut oil (can be substituted with any other oil)
1/2 inch ginger minced fine
1/2 tsp minced garlic
3/4 tsp red chili powder (or to taste)
3/4 tsp garam masala (can be substituted with any other curry powder)
To make your own garam masala check out
this post
1/2 tsp coriander powder
salt to taste
1/2 cup coconut milk
Pre heat oven to 350 deg F
Prepare a tray by lining it with parchment paper or
non stick
aluminum foil and keep aside.
Place
all the vegetables on the tray, making sure that they are not overlapping. Brush with 2 tbsp of oil on the top and sides of the vegetables. Place in oven and bake for 45 minutes.
Remove and cool thoroughly, then puree in batches until smooth.
Heat oil in a large heavy bottomed pan, add minced ginger and minced garlic to it and saute for a few seconds or until it begins to brown. Add chili powder, garam masala, coriander powder and stir a few times.
The copyright of this content belongs to
Veginspirations.com
Add pureed vegetables, salt to taste and allow to simmer for a few minutes.
Finally add coconut milk, mix well and serve this soup hot with bread of choice, or sandwiches to make a complete meal,
Serves approximately 2 to 3