Aloo paratha is a famous and well known Indian flat bread stuffed with spiced potatoes originating from Northern India. This delicious and filling dish needs a little knack and patience to make and this causes a lot of people to get turned off and avoid making this dish. One of the secrets to gettting this right is to get the consistency of the dough correctly, once the dough is made right the rest of the recipe is pretty simple and fool proof.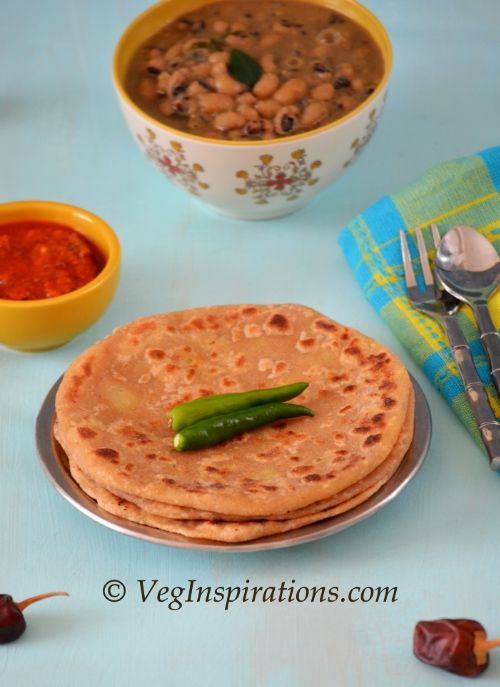 Initially I struggled to get this dish perfectly, but with trial and error, I learnt the correct consistency for this dough and it has been smooth sailing every since.Try this if you haven't....... this soft, melt in your mouth bread will not disappoint. Traditionally this is served with a little plain yogurt on the side and a little pickle , but you could even serve it with some curry or dhal to make it more filling and to make it a complete meal.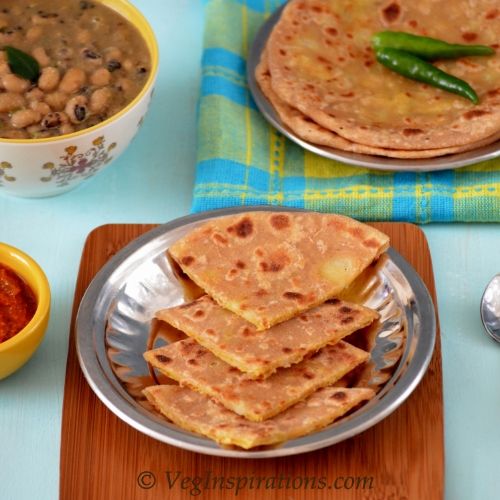 Click here for a printable view of this recipe
Ingredients and Method to make the Aloo Paratha
For the filling
3 medium white potatoes (aloo/urilakizhangu) (pierced all over with a fork and cooked in the microwave) or cooked in the pressure cooker.
1/2 tsp cumin seeds (Jeera/ jeeragam)
1/4 tsp turmeric powder (haldi/ manjal podi)
1 tsp salt (or according to taste) (namak/uppu)
1/2 tsp chilli powder (mirchi powder)
1/2 tsp cumin powder (jeera powder)
1/2 tsp coriander powder (Dhania powder)
For the dough
1 1/2 cups whole wheat flour (atta/ godumai maavu)
1/2 tsp salt
3/4 cup water
3 tsp oil
A little extra clarified butter (ghee/ nei) or any other oil to shallow fry the paratha (about 2 tsp for the entire batch of this size) (use oil for a vegan version)
Place the flour and salt in a large bowl and mix well. Add water and oil and knead till it becomes a soft , pliable and non sticky dough. Keep covered and let sit for at least 30 minutes.
Pierce potatoes with skin all over with a fork and place in the microwave and cook on high heat for about 3 to 5 mins until done. Keep aside and let cool a little. or place potatoes in a pressure cooker and cook until soft. It usually takes me about 3 to 4 whistles in mine to get done.
Peel the skin off the potatoes and mash it in a large bowl.
Add all the dry spices mentioned for the filling and mix well.
Roll the potato mixture into even small lime sized balls and keep aside. ( This quantity yielded me about 8 balls )
Roll the dough into equal large lemon sized balls and keep aside. ( This quantity yielded me about 8 balls)
With the help of a little flour if required, roll the dough into a small pancake sized circle. Place the spiced potato mixture in the center of the rolled out dough and pull the dough from all sides into the center and form a pouch with the dough and then press in the center to flatten it a little.
With the help of a little flour roll out the dough into a small circle of desired thickness and keep aside.
Proceed with the rest of the dough and the spice mixture in the same manner and keep aside.
Heat a griddle/ tawa/ flat pan on medium high and place the stuffed rolled out dough on it and cook for a minute. Flip it over and cook the other side, apply a little clarified butter (ghee) on one side, turn over and apply clarified butter on the other side and cook for an additional minute until light brown spots start to appear on the bread.
Remove and serve hot with plain yogurt and pickle or dhal and curry of choice.
Yields approximately 8 parathas.