Having tried using oats in dosai / crepes and instant oat idlis/ steamed cakes successfully I wanted to try using it in chutney. On a busy morning, at the spur of the moment as I was getting ready to prepare a more traditional style coconut chutney as an accompaniment for dosai , this idea of using oats in chutney got into my head. Once the idea struck me I could not resist it and did not even want to wait to try it out, I immediately set out in trying the chutney with oats.
Having made the chutney I was nervous while serving it to my father. I watched my father taste it with a great deal of anticipation. I was so glad that he was not able to detect the difference at all and thought the chutney tasted just like traditional coconut chutney that I normally prepare. I mentioned that I added oats to the chutney only after he was done having the chutney and he was a little surprised to know that he had something with oats and that it was not discernible at all.
If you want to add a little more fiber to your breakfast or to anytime food,or you are trying to find new ways to include oats in your diet, try this chutney especially if you have picky eaters at home, it is a simple and tasty way to sneak in oats in your family's diet.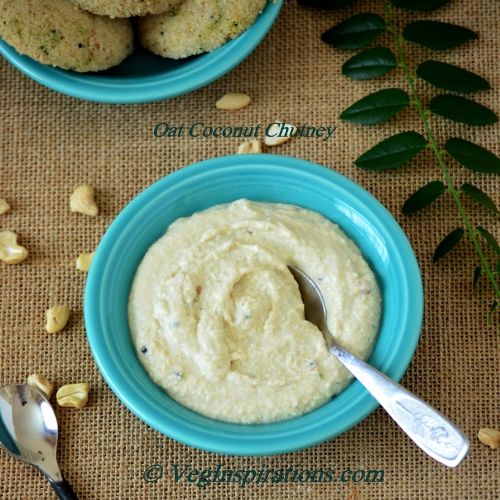 Ingredients and Method to make oat coconut chutney
2 tbsp split black gram lentil (udad dhal)
2 tbsp split yellow chick pea (chana dhal)
1/2 cup 1 min oats ( I used Quaker)
1/2 to 3/4 cup grated coconut either fresh or frozen ( if you are using frozen use after thawing it to room temperature)
4 green chillies (small Indian or thai varieties) (cut into small pieces) (or according to taste)
10 curry leaves (optional)
Dry roast the split black gram lentil and yellow chick pea separately in a heavy bottomed pan until reddish and keep aside.
In the same pan, dry roast the 1 minute oats until it gets slightly brownish and keep aside.
Dry roast the curry leaves in the same pan if using and keep aside.
In a spice grinder coarsely powder the oats, lentils and curry leaves until it resembles bread crumbs.
To this add the grated coconut and green chillies and grind adding water as required until the mixture is ground to a reasonably fine paste. Use lukewarm water if you are using frozen, thawed to room temperature grated coconut.
Add salt according and mix well.
Adjust water to achieve required consistency
For something unique try this chutney in sandwiches or wraps or as an accompaniment for upma or pretty much any other dish.
Use immediately or refrigerate the balance and use within a day of making, as this chutney does not keep very long.
Add two handfuls of cilantro/ coriander leaves chopped well to the mixture, skip the curry leaves and grind as well for a slightly different flavor to the chutney.
You can also add a little yogurt instead of water to achieve a more creamier and slightly tart flavor to the chutney
Since this chutney got created entirely in my kitchen this chutney is off to the Original Recipe Event being hosted by Lore