Badam halwa is an Indian sweet that can best be described as a kind of fudge made with almonds. It is one of my fathers favorite sweets. Every time he visits an Indian restaurant he definitely looks for this item on the menu hoping that the restaurant offers this item. So when he visited me last time it was an absolute no brainer for me to decide to make this sweet for him. That first attempt at making this sweet tested my patience....why?? does it take that long to make this fudge ....not at all. This is a pretty quick and simple sweet to make but the first time I attempted it, I was not aware that soaking almonds in hot water helps to peel the skin easily, instead I soaked almonds in regular cold water and struggled to peel the skin which took a long while, hence the reference to my patience being tested.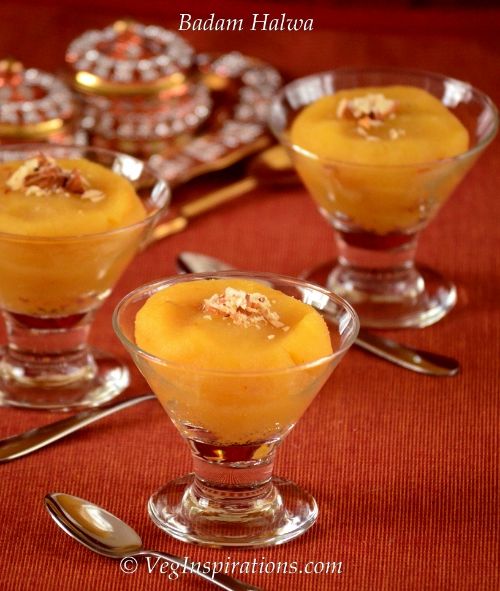 Anyway since then I have made this sweet many many times and it is now among my favorite sweets too. This simple sweet which requires a minimum of ingredients can be made easily and tastes absolutely divine. Its the perfect thing to celebrate any occasion/ milestone or just to make any ordinary day/ weekend just a
tad bit more special :)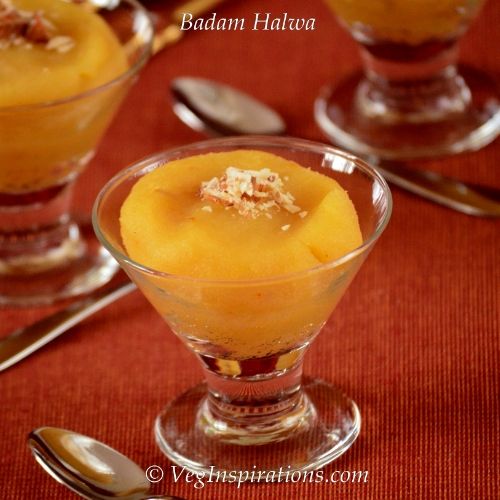 Click here for a printable view of this recipe
Ingredients and method to make Badam Halwa
1 cup of whole raw almonds (badam)
3/4 cup of sugar (or a little less for a milder sweetness) (shakkar/ sakkarai)
a pinch of good quality saffron (kesar)
4 tsp of clarified butter (ghee/nei) or according to taste (optional)
milk as required (approximately 1/4 -1/2 cup) (doodh/ paal)
Heat sufficient water ( it should be enough to cover all the almonds) on high heat until it comes to near boiling temperature. Remove from heat and add raw whole almonds to the water. Let almonds soak in hot water for about 15 to 30 minutes.
Cool until touchable, then gently press the almond slightly or rub the skin slightly and the skin peels off entirely.Continue this process until all almonds are skinned.Grind almonds in a blender adding water or milk as required to make a smooth paste ( I used milk this time)Keep ground almond paste aside.
Warm 2 tsp of milk and add a pinch of saffron to it and let the saffron dissolve in that.
The copyright of this content belongs to
Veginspirations.com
Add almond paste, sugar and saffron + milk mixture together in a heavy bottomed pan and place on medium to medium high heat and stir frequently. Add clarified butter / ghee to this mixture at this point and mix well.Keep a lid handy as more moisture in the mixture will cause some splattering.If this happens just close with a lid, leave a very small gap for the moisture to evaporate and let the mixture evaporate a little.
Keep stirring until the mixture thickens and the mixture starts to leave the sides and comes together in the center. I remove mine when a little cooled mixture is able to be rolled, then I know it is done. Remove from heat and cool to room temperature. Store in an airtight container. The halwa can be kept without refrigeration for a period of about 3 - 4 days.