Avocados, as you may already be knowing are extremely healthy, they contain oleic acid, a monounsaturated fat that helps in reducing cholesterol and also contain potassium, a mineral known to regulate blood pressure.
The best way to select a ready to eat avocado is one that is slightly soft but should not have any dark sunken spots or cracks.A firm avocado will ripen in a paper bag or fruit basket at room temperature within a few days.
I have always wanted to use more of these healthy fruits but never seemed to get them into my regular day to day cooking. Recently my friend V had invited us over for dinner. She had made an awesome three course meal, and one of the items on her menu was avocado roti. I loved the roti and could not wait to try it myself.
The very next week, avocado went on top of my grocery list and I made rotis with it. Since then these soft flaky rotis appear regularly in my kitchen. The avocados really add a wonderful texture and softness to the rotis, so much so that any additional oil/ ghee, as is usually used for rotis, becomes unnecessary.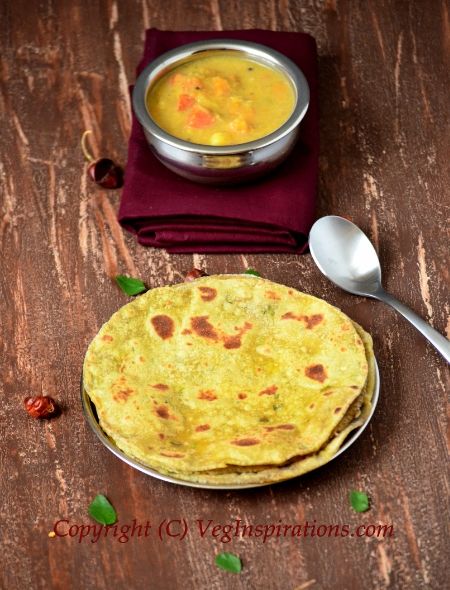 Click here for a printable view of this recipe
Ingredients and method to make Avocado Roti
2 cups whole wheat flour (atta)
1 1/4 tsp salt (or to taste)
1/2 tsp red chili powder
1/2 tsp cumin powder
2 Indian or Thai variety green chilies slit lengthwise and cut fine (optional)
1 large avocado peeled, deseeded and mashed well. (yielded approximately 3/4 cup mashed)
2 tbsp finely chopped cilantro (coriander leaves)
water as required (approximately 3/4 cup)
In a large bowl, mix together whole wheat flour, salt, red chili powder, cumin powder , green chilies, finely chopped cilantro and keep aside.
Peel an avocado, cut in half , remove the seed and mash the avocado into a pulp.
Mix the mashed avocado into the flour, add water as required and knead to form a soft and non sticky dough. It took me almost 3/4 of a cup of water, but you may need a little less or more depending on the size of your avocado and the type of flour you use.
Cover the dough and let sit for at least 30 minutes or so.
Divide dough into equal lemon sized balls.
The copyright of this content belongs to Veginspirations.com
With the help of flour roll out the dough into a circle of desired thickness ( I make mine pretty thin but even a thicker roti would taste just as good)
Heat a flat pan/ griddle/ tawa on medium heat. Place the rolled out dough on the tawa and cook on one side. When small light bubbles appear on surface and the lower side starts to get light pinkish/ brownish spots turn over and cook the other side.
When the other side begins to get light brown spots, remove from heat and serve hot with
curry
or
dhal
of choice.
This quantity of dough yielded me about 12 to 14 fairly large rotis. Yield will depend on the thickness and size of each roti.
Notes
This avocado roti is so soft as it is, that there is no need to use any oil/ ghee on it at all.
This Avocado Roti is off to the
Healing Foods Avocado event
being hosted by Siri