A new show on television called Undercover Boss, has caught my interest, at least for now.Have any of you had a chance to see this show yet ? In this show, CEO's of large companies disguise themselves and go undercover in their own company, posing as new recruits to understand how their companies operate and what they can do to improve the company. It is really cool to watch CEO's getting to know the employees and the real conditions that they are faced with and have to deal with, in the course of their work.
It kind of reminds me of the Chandamama stories I grew up reading, where kings used to disguise themselves and go around their kingdom to find out how the people of their kingdom were really faring. Come to think of it, I used to enjoy those stories too :-)
Speaking of disguises, here is a disguise for quinoa that you will find very hard to detect. Uthappam is traditionally made of ground rice and lentils made into a fermented batter, it looks like somewhat like a large pancake, only a savory version and can be topped with different vegetables.I made this version of uthappam with quinoa, brown rice, flax seeds and cooked brown rice.The final result was an uthappam that was soft and delicious and the quinoa was completely disguised and could not be detected at all.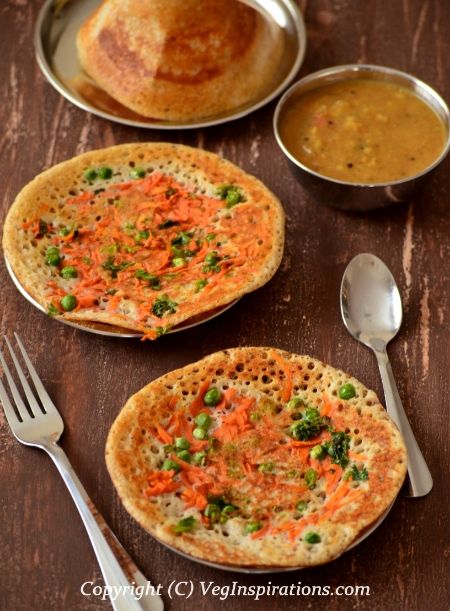 And here is a dosai made out of the same batter.....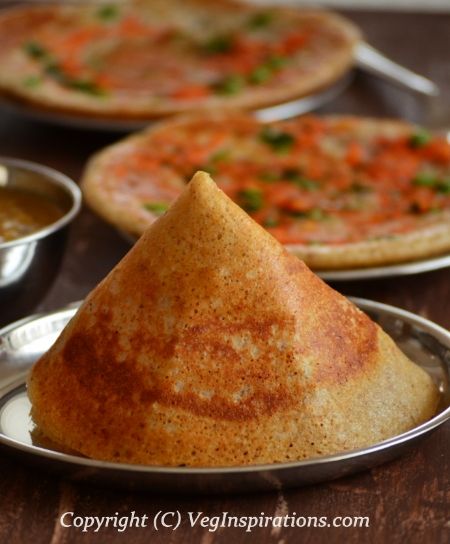 Click here for a printable view of this recipe
Ingredients and Method to make Quinoa Uthappam
For the batter
1 cup brown basmati rice (or any other brown rice)
1 cup quinoa
1/2 cup whole black gram lentil (udad dhal without the skin)
2 tbsp flax seeds
1 cup cooked brown rice
salt to taste
Few drops of sesame oil to shallow fry the uthappam
For the toppings Use any combination of vegetables,
I used various combination's of the vegetables below
Onions finely chopped
Grated carrots
Fresh or frozen green peas ( I used frozen thawed to room temperature) (see notes if using fresh peas)
Cilantro (coriander leaves) cut very fine
Indian or Thai variety of green chilies cut very fine (optional)
Soak the first four ingredients in sufficient water for 3 hours.
Grind these together with the cooked rice in batches, adding water as required to make a batter of pouring consistency (the batter should not be too runny or watery, yet not too thick, if in doubt err on the side of thicker batter, that can be corrected later on adding water as required, a thinner batter is more difficult to correct )
Add salt to taste (for this quantity I had to use almost 3 tsp of salt) and keep the batter in large container covered for 8 to 10 hours in a warm place to ferment. ( Usually I place my container in my conventional oven and switch on the oven light and leave overnight)
Remove, mix well and if you plan to use immediately proceed or you can refrigerate the batter for a few days and use as and when required.
When making uthappam,heat a heavy flat pan/ griddle/ tawa , in case you are using a non stick pan proceed to next step. If you are using a iron tawa, pour a few drops of oil on the tawa and smear it across the tawa either with a paper tissue or half an onion or wooden spatula.
Once the tawa is hot, lower heat and then pour batter in a circle. Quickly add toppings on top of the poured batter and gently press it in with the back of the spatula. Pour a few drops of sesame oil around the uthappam.
Cook on low to medium low heat until the lower side begins to brown and gently flip over and cook the other side. (the reason uthappams have to be cooked on lower heat is because they are thicker than dosai and on high heat, the lower side will brown faster and the batter will not be cooked all the way through )
The copyright of this content belongs to Veginspirations.com
Cook the other side until the vegetables begin to get a few brown spots.
Remove and serve hot with
chutney of choice
/ or
sambar
of choice.
Refrigerate balance of batter and use within a few days.
Yields approximately 12 to 15 uthappams. Yield will depend on size and thickness of each uthappam.
Notes:
If using fresh green peas, cook it until almost soft separately, make sure there is no excess moisture after it is cooked, then use in this recipe