yesterday
I have begun to experiment with using more lentil flours like mung flour and chick pea flour (besan) in baking. The first try with small amount of mung flour worked well but the quantity of mung flour in proportion to the other flours in the recipe was kind of small.
The second time I made the cookie, I increased the quantity of mung flour and also added chick pea flour (besan) in the recipe. When I tasted the cookie dough I got the feeling that the taste of chick pea flour was a little pronounced and I was worried that even after baking, that taste would overwhelm the other flavors. But after it baked the taste of the cookie was just fine, the slightly nutty taste of besan blended well with the cookie flavors and did not stand out very much.
This cookie was soft and chewy in the center and a little crisp around the edges. It reminded me a little of nan khatai in both texture and appearance, only softer because of the presence of banana in it.
Here is another view of this cookie....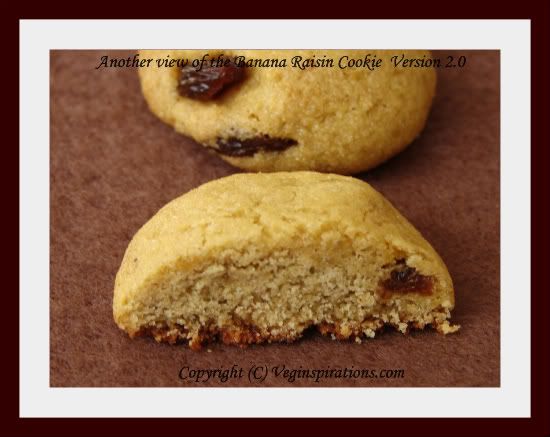 Click here for a printable view of this recipe

Ingredients and Method to make the variation of Banana Raisin cookie

1/2 cup dry roasted chick pea flour (besan) ( I used the microwave to do this)(just spread the flour on a microwave safe plate and place in m/w and heat on high for 45 secs to 1 minute until it exudes an aroma)

1/2 cup mung dhal flour dry roasted

1 cup fine semolina (or semolina flour) (fine rava/ suji)

1/2 tsp salt

1/4 cup packed brown sugar+ 2 tbsp brown sugar (can be substituted with regular sugar)

1/2 cup dark raisins

1/2 tsp baking soda

1 large banana mashed

1/4 cup oil

Pre heat oven to 375 deg F, line a cookie tray/ sheet with foil or parchment paper and keep aside

In a large bowl, add all the ingredients except mashed banana and oil and mix well.

Add mashed banana and oil and mix well until the dough comes together and resembles cookie dough.

Pinch a little dough between your fingers, roll and gently flatten and place on the lined cookie sheet.

Proceed with the rest of the dough making sure to place them at least an inch apart on the cookie sheet

Place the cookie sheet in the oven and bake between 12 to 14 minutes (it took me 12 minutes) until the cookie is golden brown and the lower side is darker brown.

The copyright of this content belongs to Veginspirations.com

Remove and cool on wire rack and store in an airtight container.

Tastes best fresh or within a day or two.

Yielded about 20 medium sized cookies

Notes

These cookies were mildly sweet, that is how we enjoy them. In case you like your cookies to have a more pronounced sweetness then increase the sugar by another 1/4 cup

These cookies like the previous version are off to the weekly

Bake off event

being hosted by Champa

As I mentioned