The idea of having overripe bananas at hand which I can use in different types of snacks is so appealing, that these days I reach for all the other fruits in my fruit bowl and purposely let the bananas ripen. I have used ripe bananas in everything from this
fudge
to banana oatmeal cookies to a few different versions of
banana bread
and enjoyed each one of them very much.
This time I decided to make Indian style cookies with bananas. In this cookie I used some semolina (suji) to give it a more nan khatai style taste and also gave this cookie a very Indian flavor by using cardamom in it.
The cookies tasted very good, were a little soft and chewy and the sweetness was on the milder side which is how I like my cookies to taste. Since we liked this version so much, I made a variation of this cookie within a few days, using a combination of mung flour and chick pea flour, I will post that version tomorrow.
Here is another view of the cookie....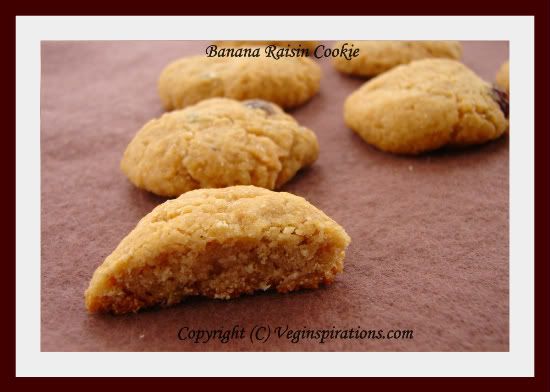 Click here for a printable view of this recipe
Ingredients and Method to make Banana Raisin cookie
Dry Ingredients
1 cup whole wheat flour (atta)
1/2 cup semolina flour (fine rava/sooji)
1/4 cup packed brown sugar (or any other sugar) (see notes)
1/4 tsp salt
1/4 cup dark raisins (optional)
4 cardamom seed powder (elaichi powder)
1 tsp baking powder
Wet Ingredients
1 large banana mashed = 1/2 cup mashed banana
1/4 cup oil
1- 2 Tbsp milk (
only if required
) (see notes)
Pre heat oven to 350 deg F
Line a cookie sheet with foil or parchment paper and keep aside
In a large bowl add all the dry ingredients and mix well.
In a smaller bowl mix the mashed banana and oil and whisk it well together.
The copyright of this content belongs to Veginspirations.com
Pour the wet ingredients on the dry ingredients and mix well. Add a few tbsp of water/ milk if required to achieve cookie dough consistency.
Pinch a little of the dough between your fingers, roll,gently flatten and place on the lined cookie sheet.Proceed with the rest of the dough making sure that the cookies are place at least an inch apart
Place cookie sheet/ tray in the oven and bake for 15 to 17 minutes until it looks golden brown and lower side begins to brown.
Remove and cool thoroughly on wire rack and place in an air tight container.
Tastes best fresh or within a couple of days.
Yielded approximately 24 slightly smaller than medium size cookies
Notes
If you have a large banana, just the banana+ oil will be enough to get a cookie dough consistency. If it falls a little short, add a few tablespoons of milk to get the right consistency. Sometimes I have needed 1 to 2 Tbsp sometimes I don't need any depending on the size of my banana. Use non diary milk for a vegan version.
If you like your cookies very sweet then you may want to increase the quantity of sugar to 1/2 cup instead of 1/4 cup.