Usually my day starts out with creating a to-do list for the day. I make such a detailed list, that most of my family members tease me about needing to write down everything. I am a compulsive list maker and start my day with a to-do list and then keep adding stuff in it as the day goes by and striking out the ones that I have already completed. Mostly at the time that I do this sometimes semi- boring task of creating a to-do list, I also simultaneously log into my email to check on mails.
On some days just seeing the long list of tasks at hand for the day seem to weigh me down :-) So a little humor at the time is much appreciated and I seem to have a family of cousins and other relatives that are always willing to oblige. The results are that on most days when I check my email I find some humorous piece forwarded to me that brings a smile on my face. I recently
shared one
and here is another one that I came across.... you all must have read Murphy's law.... this one is somewhat on similar lines, it says......
------------------------------------------------------------------------------------------------------------
Law of Queues: If you change queues, the one you have left will start to move faster than the one you are in now .
Law of Mechanical Repair : After your hands become coated with grease, your nose will start to itch.
Law of the Alibi: If you tell the boss that you are late because you had a flat tire, the next morning you will have a flat tire
Law of the Result : When you try to prove to someone that a machine won't work, it will
--------------------------------------------------------------------------------------------------------------
Does this not seem the way it happens to us sometimes, at least I can attest to the ones on queues/ lines and greasy hands, only mine are when I am cooking :-)
Speaking of cooking, here is a simple pasta salad that I made inspired from a Vegetarian Times cookbook that I borrowed from the library. The, recipe of this salad, suggested it as a cold salad and and the ingredients mentioned in the original recipe were vastly different from the ones I finally used. I served this salad hot because it was a really cold evening and cold salad was not quite what I was in the mood for, but it worked very well as a hot salad. I absolutely loved this simple,quick and elegant pasta salad and it turned out to be a great way to use up the fresh asparagus I found in my local groceries :-)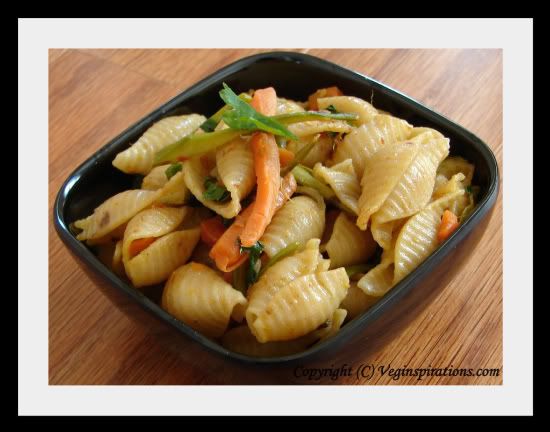 Click here for a printable view of this recipe
Ingredients and Method to make pasta with carrots and asparagus
3 cups dry shell pasta
2 large carrots julienned
10 stalks asparagus (heads cut off, balance cut into 2 inch pieces and then quartered lengthwise)
1 tbsp oil
1/4 finely cut fresh parsley
salt to taste (approx 3/4 tsp)
Whisk together
1 tbsp jalapeno mustard
1 tbsp olive oil
1 tbsp crushed red pepper (or to taste)
Cook the shell pasta as per manufacturers instructions and keep aside to drain.
Heat oil in a large heavy bottomed pan and add the carrots and asparagus and saute for a few minutes until it is cooked, yet crisp not too soft. Remove from heat.
Add the cooked and drained pasta, salt to taste and and the whisked jalapeno mustard+ olive oil+ crushed red pepper and give it a good toss until the pasta and vegetables are coated with this mixture.
The copyright of this content belongs to Veginspirations.com
Add some more crushed red pepper if required. Add parsley and mix it in too.
Serve hot, at room temperature or cold.
Serves approximately 2 to 3
This salad is off to the
Healthy Inspirations Event- Salad
being hosted on this site and to the
Cooking with Pasta event
being hosted by Sowmya
Update (03/25/10): Srimathi has started a new event called
My food finds Event
. She tells me that this pasta fits her theme too because of the jalapeno mustard, so as requested Srimathi, here is a picture of the jalapeno mustard, which I bought at the local grocery and used in this pasta, which is now off to the
MFF Event
too