yesterday
, every time I make carrot juice, I save the carrot pulp and use it in other cooking, usually something like this
carrot roti
. When I was planning to bake cookies, I wondered what would happen if I used the carrot pulp in cookies. I was curious to see if the carrot pulp, like fruit puree would work as an egg substitute in the cookie too. Since there is no better way to find out than to try it, that is just what I did.......
These cookies turned out crunchy and delicious and it reminded me of carrot raisin bread in taste.Surprisingly carrot pulp really did seem to work well as a egg substitute, at least in this cookie. I was worried that the cookies would crumble, because I have not added any other binding ingredient. But carrot pulp did the trick and the cookies turned out to be quite a success in our home. I am looking forward to making these again, in fact I think I might just whip up another batch today :-)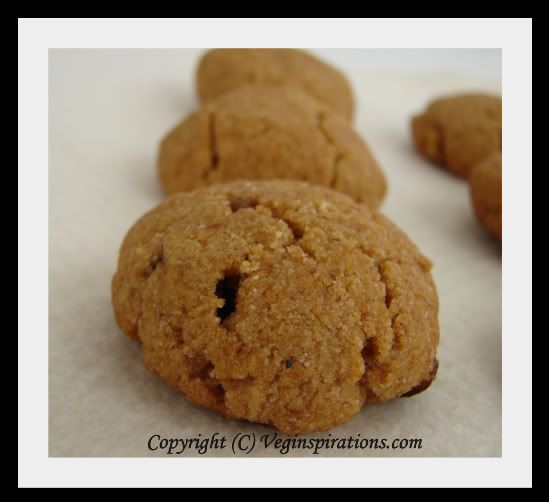 Here is another view of this cookie so you can see the texture of it.......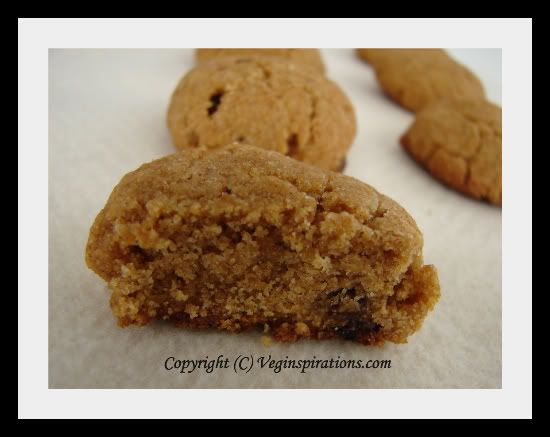 Click here for a printable view of this recipe

Ingredients and Method to make Carrot Raisin Cookie

Dry Ingredients

1 cup fine semolina (or semolina flour) (fine rava/ sooji)

1/2 cup whole wheat flour

1/2 cup dry roasted mung flour

1/2 tsp salt

1/2 tsp baking soda

1/4 tsp ground nutmeg powder

3/4 tsp cinnamon powder

1/4 cup packed raisins

1/4 cup packed brown sugar + 3 tsp brown sugar (or any other sugar)

Wet Ingredients

heaped 1/2 cup strained carrot pulp

1/4 cup + 2 tbsp oil

Pre heat oven at 375 deg F

Line a cookie sheet with parchment paper and keep aside.

In a large bowl, add all the dry ingredients and mix well.

In a small bowl, mix the carrot pulp + oil well and add to the dry ingredients and gently mix it.

Pinch small amount of cookie dough between your fingers, gently roll and flatten it. Place it on the lined cookie sheet about an inch apart.

The copyright of this content belongs to

Veginspirations.com

Continue this until all the cookie dough is used.

Place the cookie sheet in the oven and bake for 12 to 15 minutes until the lower side is a brown and tops are light golden brown.

Remove, cool thoroughly on wire rack and store in an air tight container.

Yielded 24 medium sized cookies

Notes:

If you do not want to use mung flour you can substitute it with whole wheat flour or all purpose flour (maida)

If you would like to have a more pronounced cinnamon flavor you can increase the quantity of cinnamon to 1 tsp, with the quantities I used, the flavors of cinnamon and nutmeg were very mild.

These cookies are off to the The weekly

bake-off event

being hosted by Champa

As I mentioned