this mushroom peas curry
, I came across another mushroom curry recipe that sounded interesting and I made a mental note to get to it the next time I bought mushrooms. The one ingredient that really jumped out at me when I read the recipe was the use of carom seeds/ ajwain. I have never really used so much of ajwain in a curry before, so I was both intrigued and a little nervous by the use of it and wondered how it would taste.
The simplicity of the recipe, combined with the minimum of ingredients required and my own curiosity of how it would turn out sold me on the recipe and I decided to try it :-) I am really glad I did, because the curry turned out delicious.For a change I did not tweak the recipe too much and more or less followed the recipe in the book. The ajwain lent the curry a very pleasant and unique flavor and the curry was perfect for phulkas/ rotis.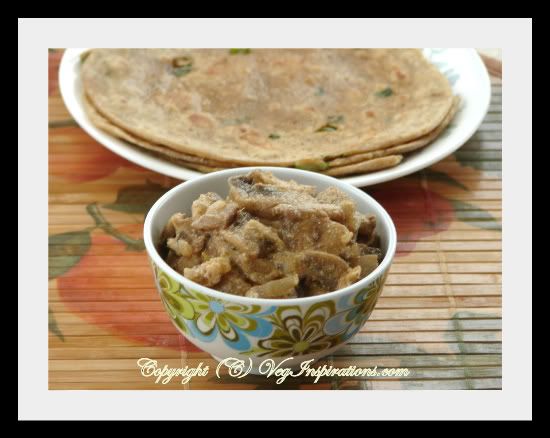 Click here for a printable view of this recipe

Ingredients and Method to make Mushroom in yogurt gravy curry

12 large button mushrooms sliced (yielded approximately 5 1/2 cups of sliced mushrooms)

2 large onions cut fine

2 tbsp oil

1 tsp carom seeds ( ajwain/ omam )

3 Indian or Thai variety green chilies cut very fine (or according to taste)

1 inch piece of ginger minced

1 1/2 tsp coriander seed powder (dhania)

3/4 tsp red chili powder

1/2 tsp garam masala

1 cup plain yogurt beaten well until smooth

salt to taste

Heat oil in a large heavy bottomed pan, add carom seeds to it . Stir for a few

seconds

until the seeds turn golden brown.

The copyright of this content belongs to

Veginspirations.com

Add onions, green chilies and minced ginger and saute until onions turn transparent. Add mushrooms and cook on low to medium low heat stirring occasionally until soft yet firm. Add red chili powder and coriander powder and stir a few times.

Add beaten yogurt, garam masala and salt. Let this simmer on medium heat until the curry achieves required consistency.

Serve hot with Rotis/ Phulkas

Serves approximately 2 to 3

The last time I flipped through my Nita Mehta cookbook to make