In addition to the traditional use of these powders as instant chutneys, they are also a great way to add spice or flavor to just about anything. When my in laws were visiting we made
sabudana khichdi
and found that it was not spicy enough, so my mother in law and I decided to add a little of this chutney powder to spice it up I was a little wary about this fusion of south Indian style chutney with Maharashtrian style khichdi, but the khichdi ended up tasting awesome. Now I add this powder to my khichdi often:-)
If you too are looking for ways to include the flax in your family's diet than this chutney powder is a great way to do it. As you know flax has immense health benefits, I have already mentioned some when I did my post on another type of
flax chutney powder
, so I will not get into it again :-) The nutty flavor of flax blends in perfectly with the complementing flavors of peanut, sesame and lentils in this chutney and makes it a fabulously tasty way to incorporate flax in our diet :-)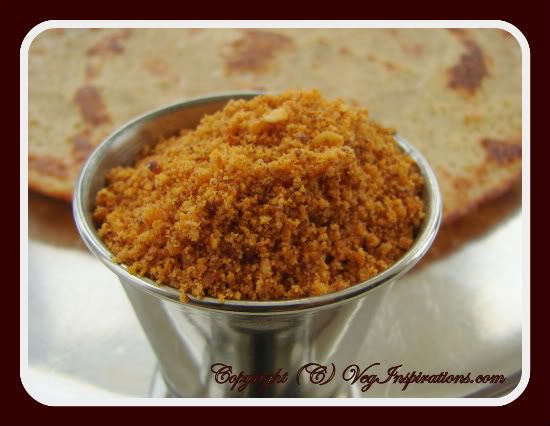 Click here for a printable view of this recipe

Ingredients and Method to make Flax and Peanut Chutney Powder

1/2 cup raw unsalted peanuts (singdana/ kadalai)

1/2 cup brown sesame seeds (til/ ellu)

1/2 cup split yellow chick pea lentil (chana dhal / kadalai parappu)

1/2 cup whole black gram lentil without skin (Whole udad dhal/ muzhu ulandhu) can be substituted with the split variety too

1/2 cup flax seed meal (powdered flax seeds/ alsi/ali virai)

25 dry red chilies (or according to taste) (see notes)

1 inch piece of jaggery (optional)

salt to taste ( I used approximately 1 1/2 tsp salt)

Dry roast each of the above ingredients seperately

except

salt and jaggery until each of them are reddish brown and aromatic. The red chilies will turn a shade darker and flax seed meal does not change color a lot, but it emits a nutty aroma when done.

Cool all the ingredients to room temperature and powder them in a spice grinder/ blender.Powder the lentils first coarsely, then add sesame, peanut, flax and red chilies and powder in short bursts. Over powdering after the nuts are added may result in clumping. Add jaggery and give another short churn. Finally add salt and mix well.

The copyright of this content belongs to

Veginspirations.com

Store this powder in an air tight container. This powder can be kept on the shelf for a few weeks, but if you think it may take you months to use it up, it is recommended to store this in the refrigerator as flax can turn rancid quickly.

Serve a small quantity of this

powder

mixed with a few drops of sesame oil with either

dosai

/

adai

/

idli

, or add this chutney powder to spice up your curries. Alternatively it can be mixed with yogurt to make an instant dip.

Notes

Use dry red chilies as per your taste. My current batch of red chilies are not very spicy so even with 25 of them I only got the chutney powder to be mildly spicy. If you have very spicy red chilies you may have to use far less of them, so do use your judgment on the quantity to be used.

There is always at least one type of chutney powder/ spice powder in stock in my pantry. When my stock of chutney powder begins to dwindle, I make another batch quickly. I cannot imagine not having some chutney powder at home, not only because these powders are convenient and versatile but also very healthy.