Podimas refers to a type of curry from south Indian cuisine, where the vegetable is cooked and crumbled to very small pieces and then seasoned. Podi literally means powder in Tamil (an Indian language). Growing up the only type of podimas I really cared about was of the potato kind. I was not even aware of podimas made with plantain until my mother in law introduced me to it. R and his entire family are very fond of this plantain podimas and it is a favored Sunday lunch menu item when the family is together.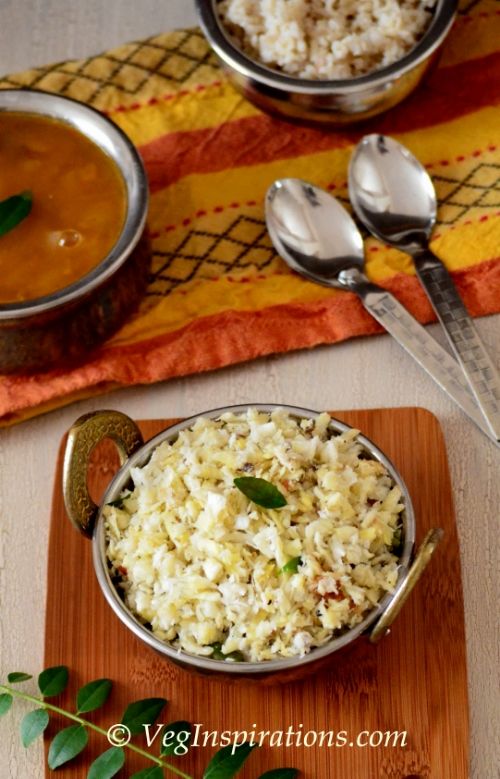 The tricky part about this curry is to cook the plantains correctly. If overcooked it will result in an unattractive mush and under cooked will taste raw. But once this part is done, the curry is really simple to put together with a minimum of items required. Pair this with a
sambar or rasam
and some plain steamed rice and you have an traditional south Indian meal that is both comforting and delicious :-)
Click here for a printable view of this recipe
Ingredients and Method to make Plantain Podimas
3 large raw plantains/vazhakkai cut into 3 inch pieces with skin or 6 to 7 small plantains
salt to taste
3 tbsp fresh grated coconut (can use frozen, just thaw to room temperature first)
Seasoning
2 Tbsp oil (preferably coconut, but any other oil is also fine)
1 tsp mustard seeds (rai/ kadagu)
1 tsp split black gram lentil (udad dhal/ ulatham parappu)
1/8 tsp asafoetida powder (hing)
1/8 tsp turmeric powder (optional)
4 Thai or Indian green chilies cut very fine ( or to taste)
1 inch piece of ginger grated fine (adrak/inji) (optional)
a few additional drops of oil
In a large heavy bottomed pan, place the plantain pieces along with skin. Fill with water enough to submerge the plantain, add a few drops of sesame oil or any other oil and place
container
on heat. Allow the plantain to cook for 10 to 15 minutes. To know if done, remove one piece of plantain , place on a plate (remember it is very hot, so allow it to cool on the plate for a couple of minutes at least) and press the skin with your finger, if the skin feels a little soft means it is done. Remove all the plantain pieces and place on the plate and allow it to cool. (if you allow the plantains to sit in the water it is cooked in, for too long, it becomes dark, hence the need to remove from the water and place on plate)
After the plantains have cooled to room temperature, peel the skin. Grate plantain. If the plantain is cooked right, it will give you soft grated plantain at this point, if over cooked it will turn to mush between your fingers.Continue until all the plantain has been grated. ( I got about 6 cups of heaped loosely packed grated plantain)
The copyright of this content belongs to
Veginspirations.com
Heat oil in a large heavy bottomed pan, add mustard seeds and split black gram lentil. When the mustards seeds begin to pop and black gram lentil begins to turn reddish, add green chilies, grated ginger and stir a few times. Quickly add asafoetida powder and turmeric powder, stir a couple of time and add grated plantain to this seasoning. Lower heat and add salt to taste and mix well.
Finally garnish with grated coconut, mix well, remove from heat and serve hot along with plain steamed rice and
sambar or rasam
as a side dish.