Regular readers of this site have probably noticed that basic whole wheat sandwich bread has been in my upcoming posts for months. I am not quite sure why I procrastinated so long to post this. There always seemed to be just one other post that had to be posted first and somehow this bread had to wait this long :-(
Some of you expressed an interest in seeing this post soon, so I decided that I would not put it off any more and finally got to it.
Using flour with the right amount of protein is very important to give bread a good rise and good texture. That is why cake flours and some other type of flours cannot be used in bread making on its own because they lack protein content. Gluten is a substance made up of proteins that gives bread its structure, texture and strength. I was aware that vital wheat gluten was available in stores and could be added to bread to give it a good rise. This bread is the first one that I experimented with adding wheat gluten to it. It really does make a difference, the bread rose beautifully.
I have made this bread many times since the first time and even made it once with white wheat flour instead of whole wheat flour ( read more about white wheat flour in
this post
). If you have used white wheat flour, you know that it does not have much protein and tends to be light. Yet adding gluten to that bread helped so much that I got a really soft yet well risen bread with good texture. I have included a picture of the white wheat version below the whole wheat version picture, so you can compare and see how it worked out with each flour.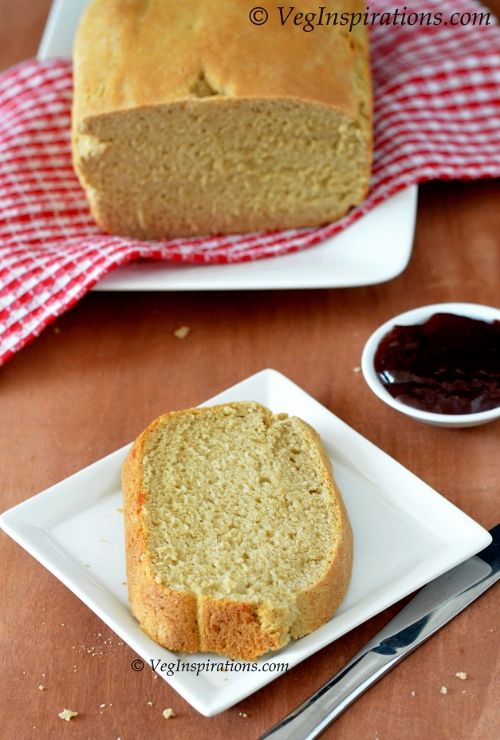 This is how the bread turned out when I tried it with white wheat flour.....
Click here for a printable view of this recipe
Ingredients and Method to make Basic whole wheat bread
3 cups whole wheat flour ( I used regular whole wheat flour )
1/4 cup all purpose flour (maida)
3 tbsp vital wheat gluten (optional see notes)
1 1/2 tsp salt
1 1/2 tbsp active dry yeast
1 tbsp sugar
1 cup warm water + 1/2 cup warm water
1/4 cup oil + 1 tsp oil
In a large bowl, add whole wheat flour, salt, vital wheat gluten, all purpose flour and mix well.
Grease a loaf pan and keep aside.
To half cup of warm water add sugar and active dry yeast and allow the yeast to rise for about 5 to 10 minutes.
Add yeast water completely to the dry flour and then the other 1 cup of warm water a little at a time and knead to form a non sticky dough.Add oil and continue to knead for another few minutes. Knead the dough for at least 7 to 10 mins, as this helps to strengthen the gluten which gives the bread structure and texture. Keep bowl covered and allow the dough to rise for about an hour.
The copyright of this content belongs to
Veginspirations.com
Gently
flatten
the dough, folding it down a few times and place in the loaf pan.Cover with tea towel or damp kitchen cloth or tissue and allow to rise for another hour.
Pre heat oven to 375 deg F. Remove the tea towel/cloth and place the loaf pan in pre heated oven and bake for 35 to 40 minutes or until browned on top and sounds hollow when you tap it. I used a 5 X 9 size glass loaf pan.
Cool, slice and serve. Tastes best fresh or within a day or two of baking.
Notes
If you have flour that is specially marked as bread flour then you can skip the gluten if you choose, since bread flour usually has higher content of protein and does not need the additional gluten. If you use half all purpose flour and half whole wheat bread flour, then you can use half the quantity of gluten specified above since all purpose flour has lesser protein content than whole wheat flour.
If you use white wheat flour or any other lighter flours with less protein content, than use the entire quantity of wheat gluten so that it gives you a good rise and good texture.
If you want to make this bread in the bread machine, you can follow the instructions of the bread machine manufacturer for the order, mine says liquids first, then flours, then salt, sugar and yeast. Just substitute bread machine yeast for active dry yeast. If you do not like the hole that the bread machine leaves at the bottom of your bread, just use the dough cycle and place in a pre greased loaf tin and bake in pre heated oven as mentioned above.