Peppers of all kinds makes our food interesting don't you think? Even imagining food without any kind of peppers seems boring. But peppers do more than lend flavor to food, here are some cool facts about peppers that might surprise you....
Peppers of all kinds are rich in vitamins A,C and K. Specifically with regard to hot peppers, the substance that gives hot peppers their heat is known as capsaicin. The capsaicin in hot peppers has been to shown to reduce blood cholesterol and triglycerides and boost immunity. Both hot and sweet peppers have been shown to increase body's heat production and oxygen conyumption for twenty minutes after eating which means that it helps the body to burn more calories
Cool huh? Usually I use a lot of bell peppers in my cooking, in everything from pastas to curries. But I cannot remember if I have ever used anaheim peppers in any sort of cooking. In fact I am pretty sure that I haven't. This time too, these peppers made it into my grocery cart only because of R. He egged me on to pick these up when we saw it in the store and I did....... without having any idea of what I would make with it when I got home. On an impulse I decided to use it in a curry......and loved how the curry tasted. Now I know I am going to go look for these peppers the next time I go grocery shopping. Hmm...maybe I should ask R to go grocery shopping with me more often :-)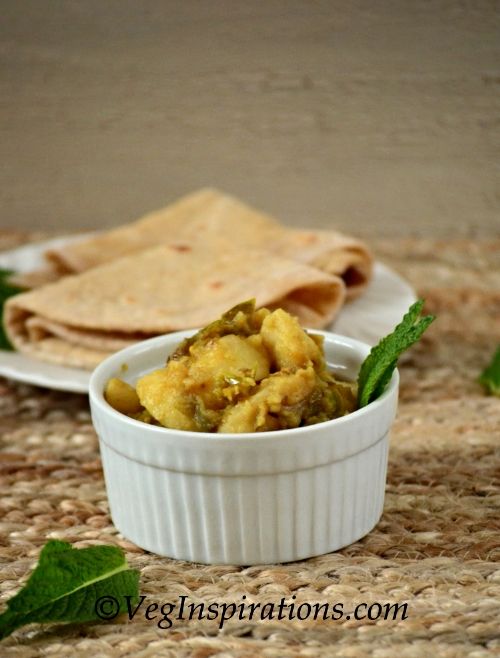 Click here for a printable view of this recipe
Ingredients and Method to make Potato with pepper curry
5 to 6 medium white potatoes (aloo/ urilakizhangu) cooked until soft (peeled and cut into 1 inch pieces) (yielded approx 4 and 1/2 cups of potatoes
2 to 3 large Anaheim peppers deseeded and cut into 1/2 inch pieces (yielded approx 1 and 1/2 cups of pieces) (can be substituted with banana peppers/or any other type of bajji molagai, see notes)
1 large onion cut fine
1 Tbsp oil
3/4 tsp cumin seeds (jeera/ jeeragam)
1/4 tsp turmeric powder (haldi/ manjal podi)
1/2 tsp chili powder (lal mirch/ molaga podi) (or to taste)
salt to taste (namak/ uppu)
1/2 tsp cumin powder (jeera/ jeeragam)
1/2 tsp coriander powder (dhania)
1 tsp lemon juice (limbu/ elumbichampazham) (or to taste)
Cook potatoes until soft. Cool, peel the skin and cut into 1/2 inch pieces and keep aside.
Heat oil in a large heavy bottomed pan, add cumin seeds. When the seeds begin to splutter, add onion and saute until onions are transparent. Add turmeric powder and stir a couple of times.
The copyright of this content belongs to
Veginspirations.com
Add Anaheim peppers, cumin powder, coriander powder and stir. Keep stirring until the peppers are cooked yet a little firm and a little crisp.
Add cooked potatoes, salt to taste, red chili powder if using and mix well.
Remove from heat, add lemon juice, mix well and serve hot with rotis/phulkas or use as a
stuffing
in sandwiches like
this one
Serves approximately 2 to 3
Notes
Anaheim peppers have a fair level of heat/ spice in them, so keep that in mind when you are adding red chili powder. If you do not want a very spicy curry just skip the red chili powder
Anaheim peppers can also be substituted with banana peppers or even bell peppers/ capsicum. If you do use banana peppers (bajji molagai) or bell peppers (Capsicum/ simla mirch/ koda molagai) these kind of peppers tend to be much milder than anaheim so make adjustments to the red chili powder to achieve required spiciness/ heat.