Lassi is the term used for a yogurt based drink originating from North Indian cuisine. It is made in both sweet and salty versions. Most Indian restaurants in India and in other countries usually offer at least some types of lassi in their menu and a lot of the ones here offer mango lassi in their menu. Initially I resisted the idea of trying mango lassi simply because I used to love the plain sweet version and did not want anything.........not even one of my favorite fruits mixed into it.
But despite my resistance to it, once I tried mango lassi, I really got hooked on to it. Of course like so many other dishes, I always find the restaurant version a little too sweet and sugary for my taste and prefer to make it at home myself. And instead of using canned pulp which I find too sweet as well, I usually try it with fresh fruit, the lassi tastes much more fresher and better this way. Since mango season is underway right now, I was not able to resist using these golden beauties for a quick and delicious weekend treat :-)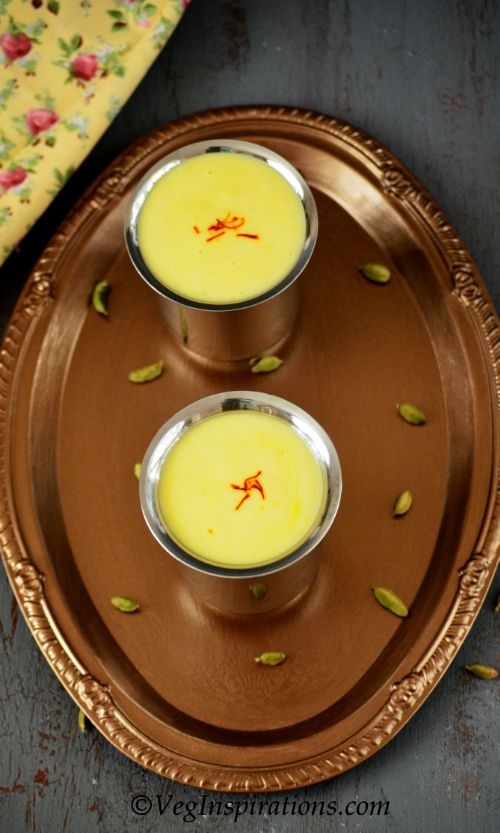 Click here for a printable view of this recipe
Ingredients and Method to make Mango Lassi
2 cups mango pieces ( I used Kent mangoes and used approximately 1 1/2 mangoes)
1/2 cup milk (doodh/ paal)
1 cup plain yogurt (curds/ dahi/ yogurt)
6 tsp sugar (shakkar/ sakkarai) (or to taste)
pinch of cardamom powder (elaichi/ elakkai) (optional )
pinch of saffron (kesar) (optional)
Blend together mango, yogurt and milk. Add sugar, cardamom powder if using, saffron if using and blend a few more seconds.If you feel the lassi is very thick you can add a little bit of drinking/ filtered water to achieve required consistency
The copyright of this content belongs to
Veginspirations.com
Chill and serve cold.
Serves approximately 2 to 3