earlier
Janet hosted a Tried and Tasted event with Veg Inspirations as her theme. When she first let me know about it, I felt simultaneously elated, honored and nervous. I was nervous because I was not sure how all the recipes tried by others would work out, and if it would be well liked and appreciated. Frankly I did not feel very different from when I used to nervously wait for the results from an important examination.
Well in this case the
results are in
and it looks like I got a passing grade :-). Thanks to all of you who have participated in this event, tried the recipes and have given your feedback. My schedule has been a little crazy lately and I haven't gotten a chance to visit you all individually and thank you, I hope you read this post and know that I appreciate all your efforts and feedback.
Moving on to the other reason for this post, Thai green curry. I tried green curry in a restaurant for the first time and have been wanting to make it at home ever since. Unlike
Thai red curry
, green curry tends to be a little more mild making it ideal for those who do not like very fiery hot food. Thai cuisine appears much more often in my kitchen these days, mostly because it is quick and simple and uses a lot of the same vegetables that is usually stocked in my refrigerator. In addition, just having plain steamed rice or
Thai fried rice
to go with the curry is enough to make a complete and delicious meal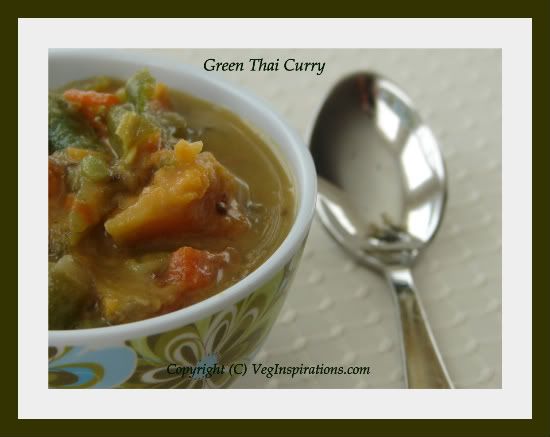 Click here for a printable view of this recipe

Ingredients and Method to make Thai Green Curry

3 carrots cut into 1/2 inch pieces

2 green bell peppers (capsicum/simla mirch/ koda molagai) deseeded and cut into 1/2 inch pieces

2 large sweet potatoes peeled and cut into 3/4 inch pieces

4 to 5 small Indian eggplants cut into 1/2 inch pieces

20 to 25 green beans cut into 1 inch pieces

one handful Thai basil cut fine (optional)

1 inch piece of ginger minced

1/2 tsp minced garlic

1 tbsp oil

salt to taste

1 tsp sugar

1 tbsp vegan Thai green curry paste ( I used Thai kitchen brand)

1/2 cup coconut milk

Heat oil in a large heavy bottomed pan.

Add

ginger and garlic and stir for a few seconds. Add all the vegetables, stir for a few seconds. Add salt to taste, sugar, Thai curry paste and a little water and allow the vegetables to cook until soft but not mushy.

Add coconut milk, water as required to achieve required consistency and simmer for a few minutes.

The copyright of this content belongs to

Veginspirations.com

Garnish with basil leaves and serve hot with plain steamed rice or

Thai fried rice

to make a complete meal.

Serves approximately 2 to 3

Notes:

Some types of Thai sauces available in the markets have some type of fish sauces in them. So if you are a vegetarian or vegan you might want to read through the labels to make sure that the one you buy does not contain fish sauce

As I mentioned