One day last week I was running behind schedule and had very little time to get dinner ready. Deciding to use frozen vegetables instead of fresh ones, I started out to make
this microwave curry
. But since I was very short on time I did not even get a few moments to look up
this recipe
. I decided to make it up as I go and had absolutely no plans to post this recipe on this site....... until I tasted the curry.
Once I did, I loved it so much that I quickly wrote down the recipe post dinner :-) The combination of caraway seeds and coriander seeds added such an unique and intriguing taste to this curry and the cashews added a touch of creaminess that was just right without making it heavy or too rich. I served this curry with some phulkas, but I am sure that it would taste equally good even with some plain steamed rice/
jeera rice
/ or pulao.
The best thing about this curry, other than it's taste, is that it is so quick to make, the entire curry can be made in under 20 minutes, maybe a few minutes longer if you have to prep fresh vegetables. And with microwave cooking it is easy to make and serve in the same dish, so clean up is a breeze too :-)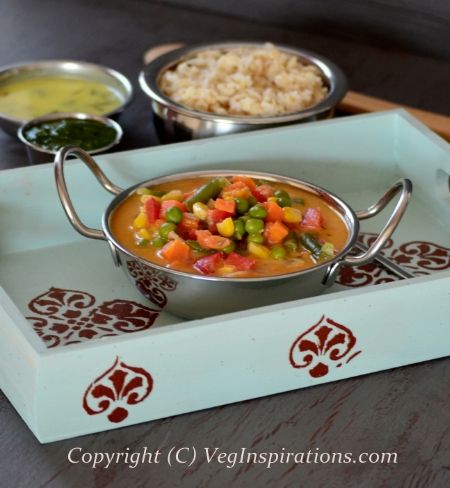 Click here for a printable view of this recipe
Ingredients and Method to make Microwave Mixed vegetable gravy curry
1 large onion cut fine
1 large tomato cut fine
Approximately 4 cups of mixed vegetables (like carrots, peas, beans, corn kernels, mushrooms, or other vegetables of choice)
2 pinches Kasuri methi (dried fenugreek leaves) (Optional but recommended)
salt to taste
1/2 tsp chili powder (or to taste)
1/2 cup milk
1 tbsp oil
Masala
1/2 tsp Caraway seeds (shah jeera)
3/4 tsp coriander seeds (dhania)
2 handfuls cashew nuts(see notes)
Grind the items mentioned under masala in a spice grinder. Grind the caraway seeds and coriander seeds first, as fine as can be done, then add cashews and using short bursts of power grind fine.
In a large glass
dish, or any other microwave safe dish (I use a glass dish), add oil, place in the microwave and heat on high for a minute
Add onions and place in the microwave and heat on high for 1+1 minute or until the onions turn transparent. Be sure to stir them every minute to ensure even cooking.
The copyright of this content belongs to
Veginspirations.com
Add tomatoes and stir well, place in microwave and cook on high for about 3 minutes in 1 minute increments The tomatoes need to be cooked until soft and mushy. Stir every minute to ensure even cooking.
Add the mixed vegetables, a few drops of water and cook on high for approximately five to seven minutes in one minute increments or until the vegetables are cooked, slightly soft yet firm.Stir every minute to ensure even cooking.
Add salt to taste, chili powder, the ground masala, kasuri methi if using and a little water. Place in microwave and cook on high for 1 minute.
Add milk, mix well and
cook
on high for another 2 minutes in 1 minute increments.
Serve hot with
phulkas
/
rotis
/ or plain steamed rice.
Notes
Because of varying wattage in each microwave, cooking times will vary in different microwaves. Use the times given in this recipe only as a guide. It may take a little lesser or more time to cook depending on your microwave.
If you like a more thicker and creamier gravy double the quantity of cashews in this recipe, with the quantity used, this curry has a very light gravy which is how we like this curry :)
This curry does not take very long to make on the stove top too.Heat oil in a heavy bottomed pan, add onions saute until transparent, add tomatoes and stir until soft and mushy.Then add vegetables and some water and cook until vegetables are soft but firm. Add salt, spices, ground powder a little more water and milk and simmer for a few minutes until the flavors blend.