here
. In case I have missed any of your sites, do send me the details using
this contact form
and I will update the list asap.
I think I mentioned in the past that from time to time I try and update pictures in some of my older posts. This time around, I updated the picture in this
Instant Oats Idli post
Okay now that I have updated you readers on these little changes to this site, let me move on to the irresistible potato podimas.
As I mentioned
recently
, potato podimas is a traditional and classic curry that can take any meal to a whole different level, especially when combined with
this pearl onion sambar
. Made with mashed potatoes, this is one of the simplest curries in south Indian cuisine. Beyond cooking and mashing the potatoes, the only other step involved in making this curry is to season it. Yet this classic dish never disappoints and is a always well liked and well received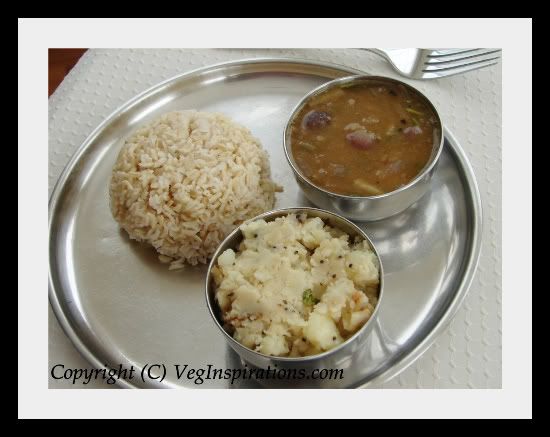 Here is another view.......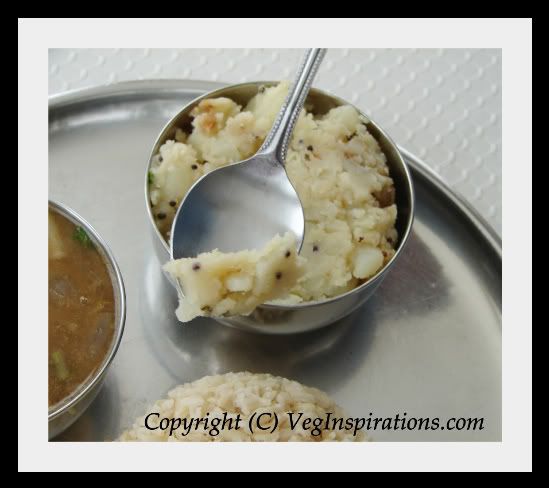 Click here for a printable view of this recipe

Ingredients and Method to make Potato curry (podimas)

9 medium sized white potatoes cooked until soft.

salt to taste

Seasoning

1 tbsp oil

1 1/2 tsp black gram lentil (udad dhal)

1 tsp mustard seeds

4 Thai or Indian variety green chilies cut fine (or to taste)

1/8 tsp asafoetida (hing)

Optional garnish

1 1/2 tbsp lemon or lime juice (or to taste) (optional)

Cook the potatoes either in a

pressure cooker

, stove top or microwave oven until soft.

Cool to room temperature, peel and mash the potatoes coarsely and keep aside.

In a heavy bottomed pan heat oil, add mustard seeds. When the seeds begin to crackle add black gram lentil and stir a few times. When the lentil begins to redden add finely cut green chilies and asafoetida powder and stir a few times.

Add the mashed potatoes, salt to taste and mix well.

The copyright of this content belongs to

Veginspirations.com

If you plan to use lime or lemon juice, add it just before removing the potatoes from heat, mix well. Serve hot with some sambar/ rasam and plain steamed rice. As I mentioned before, a classic combination with this curry is

pearl onion sambar

but you can serve it with any other type of

sambar or rasam too

Serves approximately 2 to 3

First the updates :-) For a while now, one of the tasks on my to do list has been to update my ever growing food blogger list so that it reflects the blogs that are currently on my reader. Finally after being back burnered for a while, I got a chance to update the list. While I was at it, I went ahead and created an exclusive space for the blog list, so that it would be easy for me and others like me to keep track of the wonderful creations in some of my friends' kitchens. If you have a minute, do hop over and have a peek at the updated list