Recently we took a road trip and the place we visited had among other things, this amazing, large kitchen garden. Obviously I could not resist walking through the garden and checking out the different fruits, vegetables and greens planted there. Everything looked so fresh, green and inviting. One thing that caught my eye and my interest was the Swiss chard.
It surprised me when I gave it some thought, that I had not used this interesting green in my cooking ever before. I decided to remedy that immediately, and after I returned one of the first things I did was to go and buy a bunch of chard to try. Chard belongs to the same family as beets and spinach and is said to have some amazing health benefits. It is said to be an excellent source of Magnesium, Potassium, Iron, fiber and Vitamins A, C and E.
I couldn't resist trying out chard in rotis first. In addition to some spices I also added some cilantro to the dough for additional flavor. We enjoyed this chard flavored roti a great deal and I am certain that chard is going to feature more prominently in my grocery list from now on :-)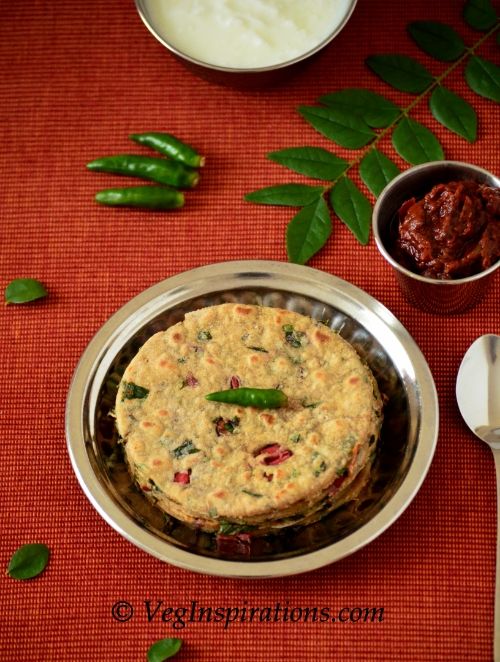 Click here for a printable view of this recipe
Ingredients and Method to make Swiss Chard roti
2 cups whole wheat flour
2 cups loosely packed cut swiss chard leaves (the chard I bought had red stalks)
1/4 cup loosely packed cut cilantro leaves (coriander leaves)
1/2 tsp Carom seeds (Ajwain/ Omam)
1/2 tsp garam masala (or any other curry powder) (or to taste)
salt to taste
1/2 tsp red chili powder or cayenne powder (or to taste)
1/2 tsp cumin powder
a few drops of oil/ ghee( clarified butter) (optional) (use oil for a vegan version)
In a large bowl add all the dry ingredients.
Mix well
. Add swiss chard leaves and cilantro and mix into the dry flour.
Add water as required,a little at a time and knead into a non sticky, not too soft, not too stiff dough ( I used almost 1 cup of water for this quantity of flour) Keep the dough covered and allow it to sit for about 30 mins to an hour.
The dough softens a little more in this time. Knead the dough gently one more time. Divide into equal lemon sized balls and with the help of a little flour roll out into as thin or thick a circle as required. Make sure to roll out the dough evenly.
The copyright of this content belongs to
Veginspirations.com
Heat a flat pan/ tawa/griddle. When hot, place rolled out dough on it and allow the roti to cook until the lower side gets light brown spots. Flip over and cook the other side, if you plan to use ghee/clarified butter or oil spread a little on the top and a few drops around the circumference of the roti.
Remove when the other side begins to get brown spots too and serve hot with curry of choice.
I served it with this
mushroom peas curry
I made 12 rotis with this quantity of dough. But yield will depend on the size of each roti.