First the answer to the food riddle I had asked in
this post
, it is....................an ear of corn. So far, the first and only person who got this answer is
Ana
. Congratulations Ana, you guessed the answer perfectly. A lot of you guessed jackfruit and mango. Now I have to admit that although the answer for this riddle is an ear of corn, I can see how easily this riddle fits both jackfruit and mango, so I have to concede that the readers who guessed either mango/ jackfruit are also correct...........see I always knew my readers are super smart:-)
Moving on to raita, raita refers to a salad made with different vegetables and whisked yogurt. As I
mentioned
earlier, raita is an integral part of Indian cuisine. When there is pulao, biryani or any other type of flavored rice dish on the menu, I cannot imagine serving it without some type of raita.
This raita recipe with peanut powder was inspired by a similar raita that my friend Akila made for
this salad event
. Funnily enough, she says her salad was inspired by
another salad
on this very site. Pretty strange evolution for this salad, huh? Unlike Akila's salad I did not go with the mustard seeds and fenugreek seed seasoning, instead I skipped the seasoning entirely and flavored the salad with a simple combination of cumin and chili powder. The peanut adds a touch of creaminess in addition to a wonderful flavor to the raita, it tasted perfect with the
peas pulao
that I served it with......If you are looking for a little twist to your usual raita and love peanut flavor, then this raita might be something you may be interested in....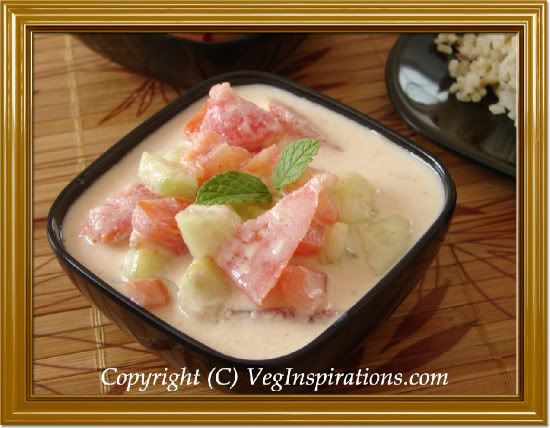 Click here for a printable view of this recipe
Ingredients and Method to make Raita with peanut powder
2 large tomatoes cut into small pieces (yielded 2 cups of tomato pieces)
5 small cucumbers peeled and chopped (yielded 1 1/2 cups of cucumber pieces)
3 tbsp unsalted, dry roasted and skinned peanuts
salt to taste approx 1/2 tsp
1/2 tsp red chili powder (or to taste)
1/2 tsp cumin powder
pinch of garam masala (optional)
1 1/2 cups cold yogurt whisked until smooth
Powder
the unsalted, dry roasted peanuts in a spice grinder in short bursts of power until it turns to a fine powder. Avoid over grinding since the nut butters will cause clumping.
In a large bowl, add cucumbers, tomatoes, salt to taste, red chili powder, cumin powder and garam masala and mix well.
The copyright of this content belongs to
Veginspirations.com
Just before serving, add whisked yogurt and powdered peanuts, mix well and serve with pulao,
jeera rice
or
peas pulao
.
Suggested variations
If you like the taste of raw onions, you can use one medium onion cut fine along with the other two vegetables.
Also this raita can be garnished with cilantro (coriander) leaves cut fine just before serving.