It seems like just yesterday when this year began and already the end of the year is staring us in the face. Time flies so quickly, weeks and months seem to pass in a blink of an eye. There never seems to be enough time to complete all the things that I plan each year. Having said that, I must admit that I like the anticipation towards the end of the year. With festivals and holidays, the end of the year almost always seems to be filled with a lot of fun and excitement.
And can any festival or celebration be complete without some indulgence.........read that as sweets. I for one cannot imagine such a thing. This cashew fudge or kaju barfi/ katli whichever term you wish to call it, is one such indulgence that makes any time of the year special. This simple and really fast dessert can be prepared in under thirty minutes and tastes and looks just like the kaju katli we get at the sweet store back home minus the silver thingy of course....
I referred to
this recipe
on Manjula's kitchen the first time I made it, but tweaked the recipe in my subsequent tries to customize it to our taste. I skipped the saffron, the light roasting of the cashew powder and reduced the quantity of sugar in the original recipe. The result.........was a melt in the mouth sweet that is decadent, delicious and very difficult to resist.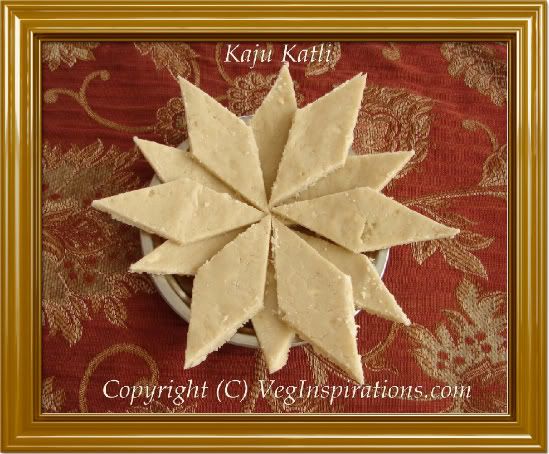 Click here for a printable view of this recipe
Ingredients and Method to make Simple Cashew burfi
1 cup raw, unsalted cashew nuts
1/2 cup sugar
1/3 cup water
a few drops of clarified butter (ghee) to grease a flat plate/dish.
Powder cashew nuts in a spice grinder to a fine powder using short bursts of power. Do not over grind since that would cause clumping.
Grease
a plate/ flat dish with a little clarified butter/ ghee and keep aside.
In a heavy bottomed pan, add sugar and water and place on heat. Allow the mixture to simmer for a few minutes on low to medium low heat
When the syrup is beginning to thicken very slightly, pour a drop on a plate and check to see if it forms a very light single thread consistency between your fingers. Remember it is a little hot so wait for a second or so until it is bearable to touch.
The copyright of this content belongs to
Veginspirations.com
If the syrup is at a light single thread consistency, remove from heat. Add the powdered cashew mixture to it, mix well. Immediately pour onto the greased plate/flat dish, spreading it with the help of the spatula. If you want the burfi to look very smooth, when it is still a bit warm use the back of a cup or spatula to smoothen out the surface. Allow the burfi to set,this takes just a few minutes.
Once it is set, cut into squares/ diamond shapes with a sharp knife. When cool store in an air tight container.
This sweet does not require refrigeration if it is going to be consumed within a few days and this sweet is so good that it usually does not last longer than that in my home :-)
Yield will depend on the size and thickness of the burfi.
Notes
If you wait until the syrup gets a very thick one string consistency then the burfi will turn out to be harder, will look more like coconut burfi. If the syrup gets very thick then the burfi will not set and will become powdery. So the key to making this right is to get the syrup just right.
If you are looking for Indian sweet recipes, here are a few more