Fried rice sticks is the best way I can think of to describe thenkozhal , but this term just does not seem adequate to describe such a wonderfully crunchy and delicious snack. For a little background, thenkozhal which is pronounced as thane-ko-yal , is a fried snack that originates from south Indian cuisine and falls under the broad category of "bakshanam" a term that is used to describe a lot of fried savory snacks in Tamil (an Indian language).
In terms of effort and time, this snack is far easier and takes much less time to make than
this thattai
for instance. In under one hour you can make a fair quantity of this, which usually lasts quite a while. Even with that I rarely make these........The guilt I feel for having indulged in fried snacks is only one of the reasons that I do not make this frequently. The other reason is the smell of oil, whenever I make any fried stuff the smell just seems to linger for hours after that and I do not like that smell at all.
Apparently I am not the only one with a dislike of the lingering smell of oil. Sometime back, I noticed
this post
on my friend ISG's site, where she shared a tip about boiling vinegar in water while deep frying. As soon as I read it, I knew that I would try it the next time I made fried stuff. As she suggested I took 5 cups of water and 1 cup of distilled white vinegar in a pot and placed it on another burner. The mixture simmered on low heat while I did the frying and voila most of the oil smell got neutralized. I was so happy with this idea, thanks ISG, I am really glad you shared this very useful tip with us.
Now if only someone could find a way to make fried foods healthy, I may actually fry more often...........yes I know, wishful thinking :-) Anyway if you are in the mood for a little crunchy snack as an indulgence, give this simple bakshanam a try...........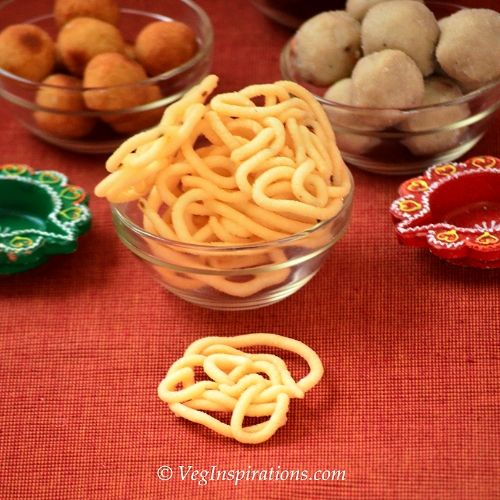 Here is a picture of the press, just to give you an idea.......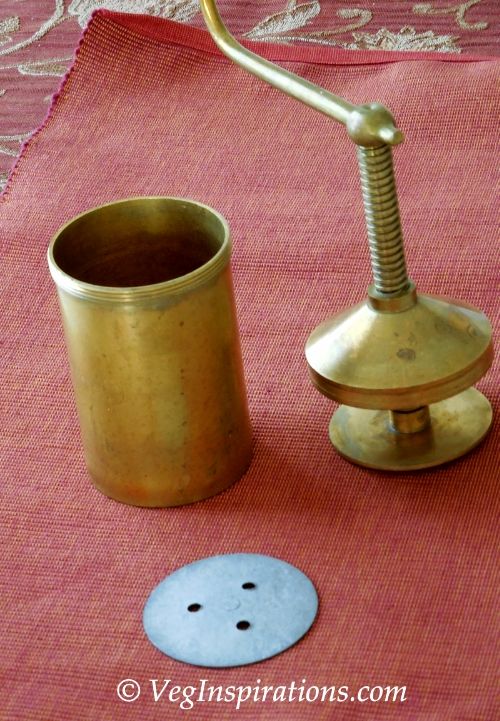 Click here for a printable view of this recipe
Ingredients and Method to make Thenkozhal
4 cups rice flour
1/2 cup split black gram lentil flour ( urad/udad dhal flour / ulatham parappu maavu)
1 tsp cumin seeds (jeera/jeeragam)
salt to taste (I used approx 2 1/2 tsp for this quantity of flour)
2 tbsp butter melted
Water as required
Oil for deep frying
Press (picture above) to shape the dough
Heat oil in a deep pan on medium heat.
In a large bowl, add the two flours, salt to taste, cumin seeds and mix well.
Add
melted butter to this and mix it in thoroughly. Add water as required to make a soft non sticky dough, with the emphasis on soft. If the dough is very stiff then it will take more effort to shape it through the press, if it is too soft, it will consume more oil when deep fried, so add water slowly a little at a time to get the right consistency for the dough.
Place the desired shape disc in the press. Then pinch out required quantity of dough, roll into an elongated ball, place in press,close and press directly into the hot oil if you are comfortable doing that. Alternatively on a large wide kitchen tissue press out the dough in small circles in as large or small size as you are comfortable.
The copyright of this content belongs to
Veginspirations.com
Gently remove each one from the tissue by placing it on your palm and slide it into the oil. Depending on how much oil you have heated, and the size of the pressed out dough, you may be able to put in more than one into the oil.
After a few minutes flip with a spatula to ensure even cooking. Remember to keep the heat on medium throughout, otherwise the outside will be very dark and the insides not properly cooked. When the thenkozhal turns creamy/ pale golden remove from heat and place on kitchen tissue to drain excess oil.
When cool store in an airtight container, and it stays for a good long while if it lasts that long :-) Enjoy with tea/ coffee or as an anytime snack.
Notes:
I find pressing out the dough on a tissue gives me more control and makes it easier to make even sized circles.It also spares me from standing near the hot oil during the entire time so I prefer to press out the dough on a tissue before transferring it to the oil.