Thattai refers to a crispy, savory, hand flattened, deep fried rice snack originating from south Indian cuisine, specifically Tamilian cuisine. It falls under the broad category of "bakshanam" a term used for all kinds of fried snacks. If you are already familiar with south Indian cuisine or have tasted this snack in the past, then you already know that this is one irresistible snack
Making thattai does not require very much skill or any special equipment, but it does require a lot of patience. Usually when my mother in law and I are together we end up making stuff like thattai and murukku (another fried snack) . As a team effort, this snack gets made far more quickly and easily. One of us flattens the discs while the other fries them.
As I
mentioned before
I rarely make any kind of fried foods at home and especially something like thattai that I know is a little more time consuming. But recently when we were planning a long drive, I had a sudden craving for some thattai to take along on the drive. So I set aside some time, patted and fried and finally and most importantly....................enjoyed this indulgence.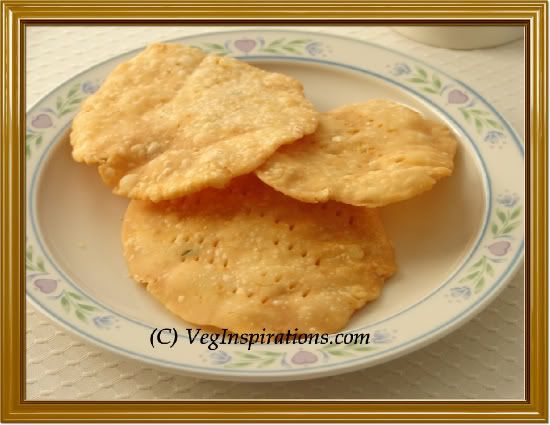 Click here for a printable view of this recipe
Ingredients and Method to make Thattai
4 cups rice flour
1/2 cup split black gram lentil flour (udad dhal flour)
handful split chick pea lentil (chana dhal) soaked in water for an hour or a little more
2 stalk of curry leaves cut into small pieces
3 tbsp unsalted butter melted
4 tbsp grated fresh or frozen coconut (if frozen thaw to room temperature)
salt to taste
1 tsp red chili powder (or to taste)
1/4 tsp asafoetida powder (hing)
Water as required (I used approximately 2 cups)
Oil as required to fry thattai.
A few spoons extra oil in a small bowl to help when patting the discs
Sieve
both the flours and keep aside. In a large dry bowl, add rice flour,black gram lentil flour, salt to taste, red chili powder and asafoetida powder and mix well.
Add curry leaves and mix well. Add coconut, melted butter and mix into the flour mixture.
Drain the soaked chick pea lentil (chana dhal) and add to the flour. Add water as required to knead into a soft and non sticky dough.
Place the oil to deep fry thattai on low to medium heat
Place a large thin cloth, something like a muslin cloth on any work surface. Pinch a little dough, roll it into a small ball (the size of a gooseberry) and place on the cloth.
Smear very little oil on your fingers and pat the ball into a thin
even
circle with your fingers ( I find that it works for me when I use a combination of patting it with my fingers and then make it more even by pressing gently with my palm) Proceed this way with the rest of the dough.
Once the disc is flattened out, gently prick the surface of the thattai with a fork all around, so that the thattai does not puff up.
A couple of tips that I find make this process easier. Make about a dozen discs on the cloth, then fry that dozen, then continue with the rest of the dough. If you pat all the dough into shape and only then start frying, the first ones would dry up, become brittle and might break when removing from the cloth. Alternatively if you have someone to assist you , then while you are patting the thattai, the other person can fry them.
If the dough feels a little dry and not as malleable, add a
few drops
of water and re-knead it to make it soft and malleable again.
To test if oil is ready, just add a small piece of dough to it, if it rises to the top immediately then the oil is hot enough to fry the rest of the thattai. Keep the heat on medium throughout the frying process, other wise the surface turns brown well before the inner parts of the thattai.
Gently removing each thattai from the cloth slide it gently into the hot oil, one at a time or more if you are using a large container of oil. Allow it to turn golden brown evenly, flip over a few times to ensure even color.
Remove and place on kitchen tissue. After the thattai is cooled to room temperature, store in an air tight container. It will keep for a couple of weeks, if it lasts that long.
The copyright of this content belongs to
Veginspirations.com
Enjoy your crispy thattais with tea/ coffee or as an anytime snack.
Notes:
This recipe can be easily halved if you want to make a smaller quantity.