While reading about the health benefits of different vegetables, I discovered that asparagus has some amazing health benefits. This vegetable among other things, is known for being rich in folate, for its anti inflammatory properties, anti cancer properties, anti aging properties and is also said to help in detoxifying our bodies. In addition this vegetable is also said to be good for the eyes and heart. Really what more can we ask for from our vegetables.... :-)
Once I learned that asparagus is so healthy I resolved to include it far more often in our diet.In the past I used asparagus very occasionally and when I did, it was usually in recipes like
this one
or in soups. I have never tried asparagus in an Indian style curry. I wanted to try asparagus in a kootu like preparation so that I could combine some protein with my veggies and get a more complete dish. Since I have already explained what kootu is in
this post
, I will not go into it again. Suffice to say that this asparagus kootu turned out to be a huge success and I have already made this quite a few times since the first time I tried it.....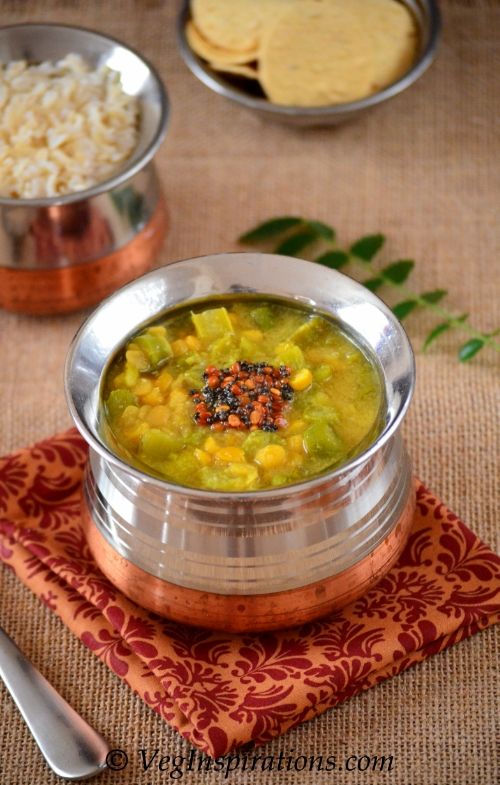 Click here for a printable view of this recipe
Ingredients and Method to make Asparagus Kootu
1/4 cup split pigeon peas (tur dhal/ tuvaram parappu)
1/4 cup split chick pea lentil (chana dhal/ kadalai parappu) (soaked for 20 to 30 minutes)
1 bunch asparagus ends cut off and cut into 1/8 inch pieces (yielded approx 3 1/2 cups of pieces)
1/4 tsp turmeric powder (haldi/manjal podi)
salt to taste
Grind together to a smooth paste
1/4 cup grated fresh or frozen coconut (if frozen thaw to room temperature)
3/4 tsp cumin seeds (jeera/ jeeragam)
3 dry red chilies (lal mirch/molaga vathal) (or to taste) (I used byadgi variety)
For the seasoning (optional, see notes)
1 Tbsp oil (preferably coconut oil)
1 tsp mustard seeds (sarson/ rai/ kadagu)
1 tsp split black gram lentil (udad dhal/ ulatham parappu)
pinch of asafoetida powder (hing/ perungayam)
Cook the split pigeon peas using the pressure cooker or the stove top until it is soft and mushy. Mash these lentils with the back of a large spoon and keep aside.
Grind, coconut, cumin seeds and dry red chilies to a smooth paste and keep aside.
Soak the split chick pea lentil for 20 to 30 minutes.In a large heavy bottomed pan cook the chick pea lentils adding water as required until it is soft, yet firm and retains its shape. When split chick pea lentil is ready, add asparagus, turmeric powder and more water if required and allow it to cook until asparagus is soft, yet firm.
When the asparagus is cooked, add salt to taste and allow to simmer for an additional couple of minutes.
The copyright of this content belongs to
Veginspirations.com
Add cooked and mashed lentils, coconut paste and allow to simmer for a few minutes until all the flavors blend.
In a small pan, heat oil, add mustard seeds, when the seeds begin to splutter, add split black gram lentil.
When
the lentils begin to turn reddish, add asafoetida powder, mix once or twice and pour entire seasoning on the asparagus curry. Allow to simmer another additional minute or so and remove from heat.
Serve hot with rice and
rasam or sambar
, or serve to go with some
phulkas
/
rotis
.
Notes:
If you want to skip the seasoning, add 1 Tbsp of coconut oil to the curry when it is simmering in the end and add 8 to 10 curry leaves torn into small pieces for garnish