The importance of protein in our diet cannot be underestimated. Protein is important for many physiological functions from building muscle to keeping cells in good working order. Recent studies also suggest that adding protein to a meal makes it more satiating which in turn could help in maintaining a healthy weight. Knowing this, I always make a conscious effort to include more protein in our diet.
My "go to" sources of protein usually are lentils and beans. I especially like dishes that allow me to combine lentils or beans with some vegetable. In fact, a perfect example of such a dish is this chana palak. This quick, delicious and satisfying curry originates from north Indian cuisine and is a very versatile and well liked curry. Whether you pair it with plain rice or pulao, or with some type of Indian flat bread like
phulkas
,
rotis
,
parathas
or naan, it never fails to satisfy.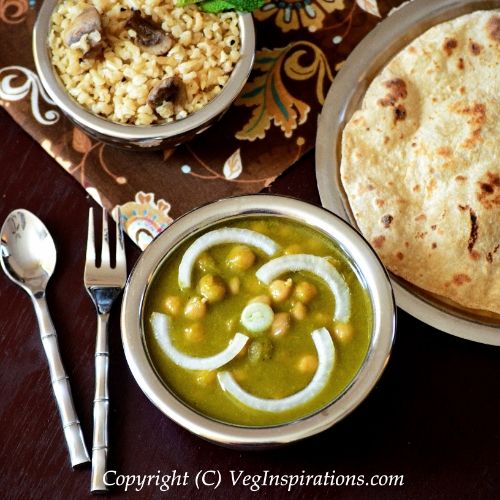 Click here for a printable view of this recipe
Ingredients and Method to make chickpea and spinach curry
1 cup chick peas (chana) soaked for 8 hours in sufficient water with a pinch of bkg soda (soda is optional)
6 oz of spinach (palak)
2 small onions (pyaaz/vengayam) peeled and cut fine
1 tbsp oil
1 inch piece of ginger (adrak/inji) minced or grated fine
1/2 tsp minced garlic (lehsun/poondu)
2 small tomatoes cut fine(tamatar/thakkali)
1/2 tsp red chili powder (or according to taste)
1/2 tsp cumin powder (jeera/ jeeragam powder)
1 tsp garam masala (or to taste) (can be substituted with other curry powder) You can check out my homemade garam masala recipe
here
.
1 tsp sugar (optional)
salt to taste
Drain
the water the chick peas were soaked in, fill with fresh water and pressure cook or cook on stove top until the chickpeas are soft but not mushy. Keep aside.
Place spinach leaves in a bowl of hot water for a couple of minutes. When the leaves begin to wilt remove with a slotted spoon and place in a bowl of cold water. Drain this spinach and puree until smooth and keep aside.
Heat oil in a large heavy bottomed pan, add onion and saute until it turns transparent. Then add ginger, garlic and stir a few times.
The copyright of this content belongs to
Veginspirations.com
Add tomatoes and stir until tomatoes are cooked and soft. Remove from heat, cool and puree this mixture in the blender until smooth and place back in the pan.
Add chili powder, cumin powder, garam masala and mix well.
Add pureed spinach, salt to taste, sugar if using (this helps retain color of spinach) and cooked chickpeas and simmer together for a few minutes or until the flavors come together.
Serve hot with plain rice or pulao or
roti
,
naan/ kulcha
,
phulka
or
paratha
of choice.
Serves approx 2 to 3
Suggested variation :
Sprout the chickpeas for additional nutritional punch :)