Upma is a term traditionally used for a savory dish originating from south India, made with semolina and vegetables and is usually served as a light dinner/ breakfast/ or snack. It is somewhat similar to porridge, only it is savory, even a little spicy with a lot of vegetables. If you want to know more about this dish,
this
is the wiki entry for upma. As with any other dish there are many variations of upma, some versions made with vegetables and some without and some versions made with semolina and some using other flours or ingredients.
For a while now I have been wanting to try a variation of upma with oatmeal in it and finally got a chance to try this last week. While deciding between rolled oats and steel cut oats, steel cut oats won out because I thought the chewier texture and slightly nuttier taste would be better in the upma. This upma turned out to be a keeper, I enjoyed it so much :-) Steel cut oats gives this upma an almost pilaf like feel and between the vegetables and the oats this dish turned out to be pretty filling. It could very easily be made for a light dinner or a very heavy tiffin or even for the lunch box :-) So what are you waiting for, if oats is on your menu this week give this upma a try and tell me what you think :-)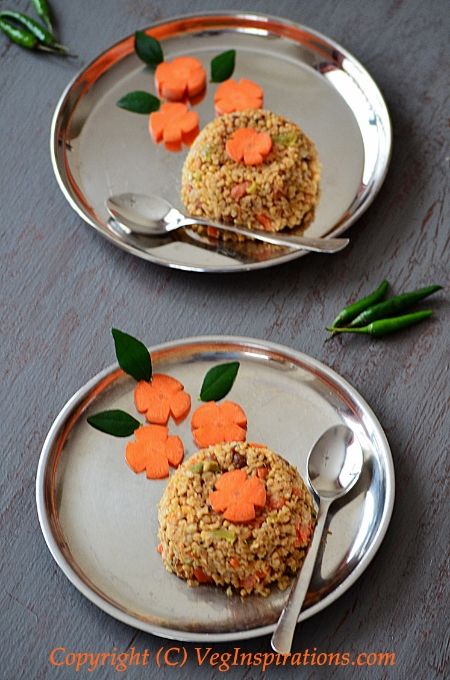 Click here for a printable view of this recipe
Ingredients and Method to make Oatmeal upma
1 1/2 cup steel cut oats
2 carrots cut fine
1 green bell pepper (capsicum) deseeded and cut into 1/4 inch pieces
1 cup frozen or fresh green peas (see notes)
2 medium tomatoes cut fine
1 medium onion cut fine (optional) (see notes)
salt to taste
2 tbsp coconut oil (can be substituted with any other oil)
1 tsp mustard seeds
1 1/2 tsp split chick pea lentil (chana dhal)
1/8 tsp asafoetida powder (hing/ perungayam)
1 stalk of curry leaves broken into little pieces (optional but recommended )
5 Thai or Indian variety green chilies cut very fine(or to taste)
1 inch piece of ginger grated fine
approximately 2 1/4 cup water
In a large heavy bottomed pan, lightly roast steel cut oats in about 1 tsp of oil. When done, remove and keep aside.
In the
same pan
, add balance of oil and place on low to medium heat. Add mustard seeds, when the seeds begin to splutter add chick pea lentil and stir until it turns evenly reddish. Add green chilies, ginger, asafoetida powder and curry leaves if using and stir a few times.
If using onions add onions first, saute until onions are transparent. Then add tomatoes and cook until they are soft and mushy. Add the rest of the vegetables, water and salt to taste and simmer for a few minutes until the vegetables are cooked yet firm.
The copyright of this content belongs to
Veginspirations.com
Add roasted oats, close with a lid and allow the oats to cook for a few minutes until soft. Add more water if required making sure to add only very little each time so that the oats does not become mushy ( I needed only this quantity of water) . When oats are soft remove from heat and serve hot.
Notes:
Onions taste nice in this upma, but if you are avoiding onions or do not have them this upma can be made without it too. Tastes good both ways :)
For frozen green peas thaw to room temperature before using in the recipe. For fresh green peas, semi cook the peas before using in the recipe
You can also use any combination of carrots, cauliflower, potatoes and such other vegetables in this recipe. Just add to water, allow to cook until soft then proceed with the rest of the recipe