First the fun part :-) Here is a something one of my friends forwarded to me to try.....
While sitting at your desk, lift your right foot off the floor and make clockwise circles.
Now, while doing this, draw the number "6" in the air with your right hand.
Your foot will change direction. And there's nothing you can do about it.
Have you ever tried this ? After I read the mail, I did and the results were truly hilarious. If you are in the mood for a good laugh, give this one a try......................:-)
Moving on, ever since I tried red swiss chard for the first time in
this roti
, red swiss chard appears frequently in my menu. Recently when I was planning to make a curry with it, I thought of combining it with some cabbage. I have never tried this combination before so I was not sure how it would work out, but I was fairly certain that the it would be a good combination. And it was :-) It was a perfect match with the phulkas that I served it with, but this curry is versatile enough to go with any Indian themed menu. The best thing, this curry is ready in very little time making it perfect for quick dinners on busy evenings....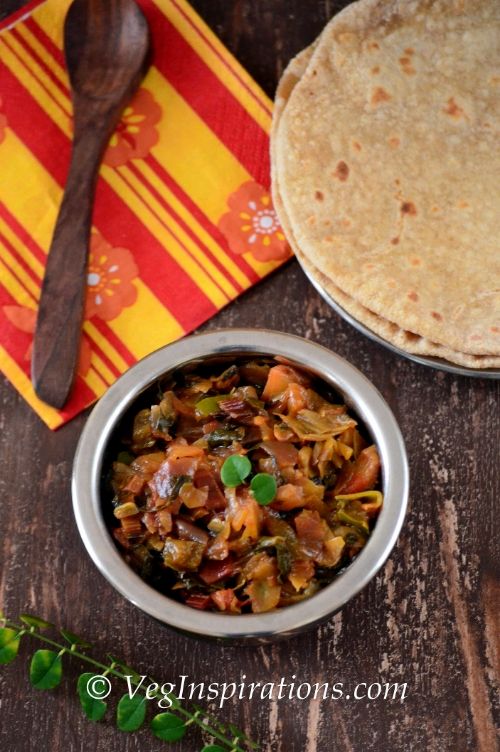 Click here for a printable view of this recipe
Ingredients and Method to make red swiss chard and cabbage curry
1 large onion cut fine
2 medium tomatoes cut fine
1 green bell pepper (capsicum/koda molagai) deseeded and cut into small pieces
4 heaped cups finely cut cabbage
3 packed cups finely cut red swiss chard leaves + stem
2 Tbsp oil
3/4 tsp cumin seeds (jeera)
salt to taste
1/4 tsp turmeric powder
1/2 tsp red chili powder ( or according to taste)
Assemble
all the ingredients and keep them ready.
Heat oil in a heavy bottomed pan, add cumin seeds to it. When the cumin seeds sizzle, add onions and saute until it turns transparent.
Add tomatoes and cook until it turns soft and mushy. Add turmeric powder and stir a couple of times.
The copyright of this content belongs to
Veginspirations.com
Add cabbage, green bell pepper and stir well. Place a lid on the heavy bottomed pan and allow the vegetables to semi cook. When the vegetables are semi cooked, add red swiss chard and mix well.
Add salt to taste and red chili powder and stir well. Close with a lid and allow the vegetables to cook until soft.. This hardly takes any time, just a few minutes.
Remove from heat and serve hot with phulkas/ rotis or parathas. Or serve it as a side dish in any Indian themed meal.