Hope you all had a good weekend. Did any of you get a glimpse of the moon on Saturday (March 19th). The moon was supposed to seem very large on that day, I heard that this is known as the super full moon and it only happens once in about 18 years. To read more about this phenomenon check out
this link
. I was eagerly looking forward to seeing the moon that evening, unfortunately we had some clouds move in that day and it obscured the moon almost fully. Sigh ! I was so disappointed.....
Anyway moving on to the main reason for this post. Slow cookers are ideal for making kheer (payasam). The constant stirring that is needed on the stove top method can be almost completely avoided with a slow cooker. Meaning more free time to get other things done in that time :-) Badam kheer is a simple and delicious dessert with a rich creamy taste that never fails to satisfy. It is perfect for entertaining and parties too, since almost everyone seems to like this a lot :-) For those of you who do not have a slow cooker, I have included a quick note at the bottom of the post for making this on the stove top.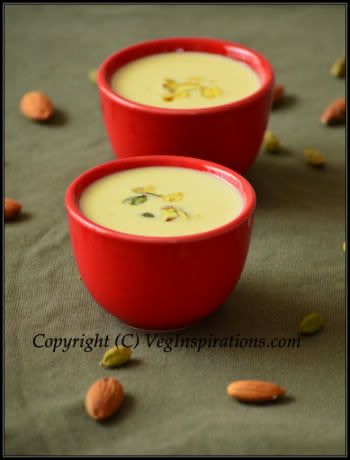 Click here for a printable view of this recipe
Ingredients and Method to make Slow cooker badam kheer
1/2 cup unsalted raw almonds (Badam)
6 cups of whole milk (doodh)
1/2 cup sugar (Shakkar)
1/8 tsp cardamom seed powder (elaichi)
2 generous pinches of saffron (Kesar)
Soak almonds in hot water for 2 to 3 hours. Remove,
peel the skin
and grind to a smooth paste with a little milk. Keep this aside.
Place balance of the milk in a slow cooker and set the slow cooker to cook on high for 4 hours.
The copyright of this content belongs to
Veginspirations.com
After 3 hours, add almond paste, sugar, saffron and cardamom powder and allow to simmer for another hour.
Remove from heat, cool and serve warm or chill in the refrigerator and serve chilled.
Notes:
If you want to make this on the stove top, place milk in a large heavy bottomed pan and allow to simmer on low to medium low heat, stirring frequently to avoid burning. When the milk has reduced to half, add almond paste and other ingredients and allow to simmer for another fifteen minutes or so. Remove and serve warm or chilled.