When I was browsing the web looking for something else, I came across a tip that tomato ketchup is very good for polishing copper. I do not remember where I saw it, and did not find it again when I searched, but the idea remained with me. I have a stainless steel pot with a copper bottom that has seen lots and lots of use. I thought it would never look as bright as it did when I first bought it. When I read this tip, that pot was the first thing I thought of and couldn't wait to try it.
So I applied regular tomato ketchup to the copper surface and let it sit for about 15 to 20 minutes. Then I washed it off with water and wiped dry and voila.....the copper looked beautiful. Scroll down to the bottom of this post if you want to see the before and after pictures of this experiment.....Apparently the acidic quality of the tomato helps in brightening the copper. I am so going to try this with all the other copper pots in my kitchen :-)
Anyway moving on to the other reason for this post. Ever since I made
this brown rice cutlet
and
this quinoa cutlet
, any time I have some leftover cooked rice I always think of making some cutlets with it. This time I decided to use peanut powder to add flavor to the cutlets. I loved how this cutlet turned out, it tasted awesome both on its own and in a sandwich too. If you like peanuts the way I do, give this simple and hearty cutlet a try, I am sure you will love it as much as I did :-)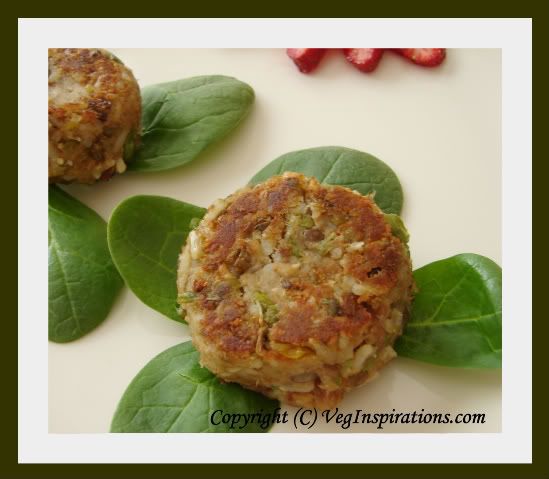 Click here for a printable view of this recipe.
Ingredients and Method to make Brown Rice and Lentil cutlets
1/2 cup whole brown lentils rinsed and soaked in water for 15 to 30 mins
1/3 cup raw unsalted peanuts (or dry roasted unsalted peanuts )
2 cups cooked brown rice (can be substituted with any other type of cooked rice)
1 cup packed whole wheat bread crumbs (or any other type bread crumbs, I used oatmeal breadcrumbs)
3 Thai or Indian variety green chilies (or to taste)
1 inch piece of ginger
1 cup mixed vegetables (any combination of carrots, peas, cauliflower, beans etc)
salt to taste
1/2 tsp cumin powder
3/4 tsp garam masala (can be substituted with any other type of curry powder)
1/2 tsp red chili powder (or cayenne powder)
a few drops of oil to shallow fry the cutlets
Dry roast
peanuts on low to medium low heat until evenly roasted. Cool, powder coarsely in the blender or spice grinder using short bursts of power until the powder resembles bread crumbs. Keep this powder aside.Mince green chilies and ginger together and keep aside.
In a heavy bottomed pan, cook lentils using water
as required
until almost done. Add vegetables, minced ginger+green chilies and cumin powder, sprinkle a little water
if
required and allow the vegetables to cook until soft.
Add cooked rice, salt to taste, garam masala, chili powder if using and mix well. Finally add peanut powder and bread crumbs and mix well. At this point the mixture will become a little stiff. Remove from heat, allow to cool until able to handle it. Shape into small cutlets of desired size.
The copyright of this content belongs to
Veginspirations.com
Heat a flat pan/ griddle/ tawa, place two or three cutlets on it and pour a few drops of oil around it.
Cook until lower side of cutlets is evenly brown, flip over and cook the other side until evenly brown. Remove and serve cutlets with ketchup, chutney of choice or sauce of choice.
Or use cutlet as a sandwich filling, or in a wrap and enjoy.
Yield will depend on size and thickness of each cutlet.
Notes
Use water only as required when cooking lentils/ vegetables. This way when rice/ peanut powder and bread crumbs are added the mixture will thicken nicely and be easy to handle. If there is too much moisture you would need to cook it longer for the water to evaporate.
Here is a before and after picture of the copper dish that I discussed above......
Before trying the tip.....
And after....
Big difference, right ?.....